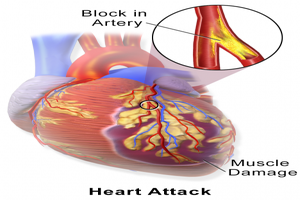 New Delhi :  The Cardiological Society of India-Delhi Branch organised Mid-Term Meet of National Interventional Council (NIC) at New Delhi during 14th-16th April, 2017, presented the largest data collected from around 960 cardiology centres across the India, revealing some astonishing figures about the burden of Cardiac disease in the country and its treatment in the country.
Dr NN Khanna, Cardiologist and Organizing Chairman of NIC, presented the data on Heart attacks in India  highlighting that in the year 2016-17, around 30 lakh persons in the country suffered from Acute Heart Attack and were presented at the various treatment facilities. Of these 12 % were less than 40 years age which is noted as a substantial increase in younger MI from last year.
It was noted that with concern that there was a sharp rise in the occurrence of Acute MI in persons less than 40 years of age which is in sharp contrast with the western patterns.
Treatment 
Regarding the treatment of AMI,  It was  noted with  concern that 12 lakh thromolytics were used across the country, while only 64,000 Primary PCI were done, implying shockingly, that more than 17 lakh persons did not get the appropriate treatment designated for re-perfusion necessary for the treatment of Acute MI.
Dr Khanna further informed that in the year 2016-17, around 4.95 lakh stents were used out of which 4.15 lakh were Drug Eluting Stents. This marks 6% increase in angioplasties since last year.
Burden on Cathlabs
NIC further revealed currently, there were around 1100 cathlabs, out of which the CSI could get treatment data from around 960 cath labs.
Analysis of the data revealed that, around 3% of cathlab did over 2000+ each cases every year ( amoutning to 18% of the work), while 10% of the cath labs were doing did over 1000+ cases per year ( i.e. 20% of total work), implying that close to 40% of the Cardiology intervention in the country was being done at 13% of the cathlabs. Further peripheral centres were treating more MI in the country.
It was further revealed that around 40% of the treatment of primary MI were insured/funded by the state government, through either state government hospitals, or schemes run by the government.