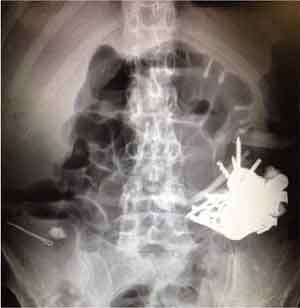 A 52-year-old male patient with psychiatric medical history who presented to the emergency department five times during a period of 5 years due to gastric outlet obstruction manifested mainly by abdominal pain, vomiting and haematemesis after intentionally ingesting metals and which necessitate several surgical interventions.The patient went to the emergency room five times over a five-year period, complaining of stomach pain, nausea and vomiting up blood. In four of these instances, doctors had to endoscopically remove a massive metal bezoar from his stomach In order to relieve symptoms of gastric outlet obstruction ingested metal bezoar was removed endoscopically. Eight months later, he was readmitted and operated because of failing endoscopic total removal of the different metals ingested. These bezoars were nails, knifes, screws, nuts, spoon handles, screwdriver head, washer, pebbles, coins and iron wire. Lately, he presented with generalised peritonitis due to gastric perforation from metal bezoars. 
The patient ultimately underwent an open laparotomy, bezoars were removed via gastrotomy and many enterotomies since the radiologic perioperative findings help us to localise all the materials and to check for their total removal to prevent recurrence. The postoperative course was uneventful and the patient was discharged on postoperative day 15 with a referral to behavioural and mental health providers.Differential diagnosis which should be kept in mind includes ulcer perforation, left transverse colon tumour.
Metal bezoars could be a rare cause of abdominal concern. They are generally ingested accidentally in adults, usually in infants, elderly, psychotic patients and prisoners. The patient could be asymptomatic. Surgical exploration and extraction is the treatment of choice and thorough exploration of the whole digestive tract is necessary to avoid retained materials. Psychiatric follow-up is mandatory to prevent recurrence that has been reported to be 14% in the literature.
Bezoars are composed of a wide variety of material depending on the type of the ingestion. By order of frequency, phytobezoar is the most common, followed by trichobezoar, drug bezoar and lactobezoar. Metal bezoar are the least common and very few cases are described in the literature. Bezoars are usually intentionally ingested, thus they occur in normal stomachs and are caused by foreign bodies that cannot bypass the pylorus.In the literature, metal bezoar has earlier been  reported seven times .The case has been published in BMJ case reports.
For more details click on the link :
http://casereports.bmj.com/content/2017/bcr-2017-221928.full?sid=47f1cdb4-eff4-4cd0-90e2-0e9e643df3ec