................................ Advertisement ................................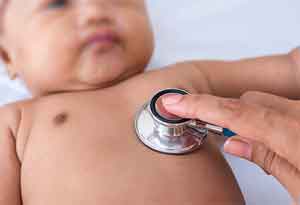 It has been found that Montelukast may be effective for reducing care-giver observed wheezing and reduce the daily need for salbutamol during the first seven days of treatment for recurrent wheezing illness in children 3-36 months of age. However, no change was observed in symptoms during a 56-day treatment period when compared to children receiving a placebo treatment.The study has been published in the journal Paediatric Allergy and Immunology.
Cysteinyl-leukotrienes are increased in the airways of infants with virus-associated wheezing. Dr. Keskin O and associates aimed to determine the effects of a cysteinyl-leukotriene-1 receptor antagonist on symptoms during an early-life wheezing illness and to investigate the factors that affect the response to this drug.
The researchers in a randomized, double-blinded placebo-controlled study recruited children aged 3-36 months with wheezing illness and randomized to active drug or placebo for 56 days. A symptom score diary (SSD) was kept by the children's caregivers. Children were given 4-mg montelukast or placebo once in the evening in tablet form for 56 days. The caregivers were asked to maintain a daily record of symptoms for wheezing, coughing, and shortness of breath on a scale of 0 to 4 (0= "no symptoms" to 4= "very severe symptoms"). The results showed montelukast group had the higher percent of symptom-free days within the first week of treatment compared with placebo (13.8±4.1% vs 5.4±3.4%; P=.028). On day 7 of the treatment, the wheezing score was significantly lower for the montelukast than for the placebo group. (0.5±0.1 vs 1.4±0.2; P=.002). In addition, montelukast reduced the total number of salbutamol administration episodes during the first week of treatment (12.7±1.8 vs 19.2±1.6; P=.013).
................................ Advertisement ................................
The authors concluded that montelukast may be effective for reducing caregiver-observed wheezing and the need for salbutamol during the first week of treatment for early-life wheezing. The impact for caregivers and the optimal duration of treatment will need to be explored in studies of larger size.The researchers acknowledge that asthma cannot be properly diagnosed in this age group and the reported wheezing by the caregiver may not always be accurate especially for those whose native tongue is not English.They call for further studies to better define the importance of wheezing episodes and burden of β2 agonist rescue events to caregivers and better define the optimal duration of montelukast therapy to achieve these benefits.
For further reference log on to :
................................ Advertisement ................................
Pediatric Allergy and Immunology. 2017 Oct 19. doi: 10.1111/pai.12822. PMID: 29047178
Dr Kamal Kant Kohli-MBBS, DTCD- a chest specialist with more than 30 years of practice and a flair for writing clinical articles, Dr Kamal Kant Kohli joined Medical Dialogues as an Editor-in-Chief for the Speciality Medical Dialogues section. Besides writing articles, as an editor, he proofreads and verifies all the medical content published on Medical Dialogues including those coming from journals, studies,medical conferences,guidelines etc.
Before Joining Medical Dialogues, he has served at important positions in the medical industry in India including as the Hony. Secretary of the Delhi Medical Association as well as the chairman of Anti-Quackery Committee in Delhi and worked with other Medical Councils in India. Email: editorial@medicaldialogues.in. Contact no. 011-43720751
To know about our editorial team click here
................................ Advertisement ................................