Misguided medication: Woman narrowly escapes death after self injection of fruit juice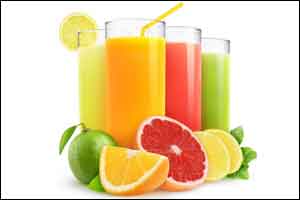 A case of misguided medication a woman develops a severe systemic infection and narrowly escapes death after self-injection of fruit juice for attaining better health.
A Chinese woman was diagnosed with a severe systemic infection and multiple organ dysfunction after she injected herself with a DIY fruit juice concoction in an erroneous attempt to stay healthy.
The DIY fruit juice remedy has put the women on the verge of death. 51-years old women surnamed Zeng took 20 different kinds of fruit into the juicer and prepared an infusion after simple filtration at her home on 22 February, thinking that different combination nutrient-rich fruit will assuredly make her healthy. But, she almost paid for it with her life.
Reportedly, after injecting the fruit juice she felt itchy and her body temperature rose. However, she ignored the symptoms. After witnessing the strange symptoms her husband sent her to the hospital.
After doing all the tests, the doctors confirmed severe systemic infection and coagulation disorder and dysfunction of multiple organs including her liver, kidney, heart and the lung. She has been in the Intensive Care Unit for 5 days after injecting herself. Doctors cleansed her blood through dialysis, They have also used clotting agents and gave her antibiotics. After going through all the medical procedure she was finally saved.
Zheng admitted that she thought fruits are healthy and very nutritious and it would not do any harm to her if she injects herself with fruit juice. But, never had this in her mind that this will cause her so much of trouble.
Liu Jianxiu, the attending doctor has warned against unconventional injections and medicines as this lack a scientific basis.
This is not for the first time that a misguided medication has caused life-threatening trouble for the people who have used them. There are many such stories. Back in January, A 33-year-old man injected his own semen into his vein thinking that he found a cure for his back pain which ultimately resulted in abscess and he was hospitalized. A Korean model injected cooking oil into her own face which has left her permanently disfigured.
Doctors have warned against random injections might be life-threatening. People should not blindly follow these remedies as there is no solid evidence of their health benefits but the past few incidences have prompted their dangerous side effects.