Mirtazapine : an effective treatment option for Fibromyalgia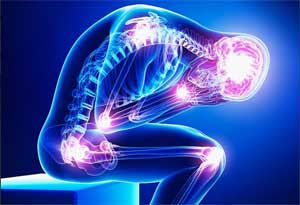 Treatment with the antidepressant mirtazapine appears to be a safe and effective option for patients with fibromyalgia, according to a systematic review published in Rheumatology International.
Patients with fibromyalgia are often treated with several medications, including antidepressants, anticonvulsants, muscle relaxants, nonsteroidal anti-inflammatory drugs (NSAIDs), and opioids. While they have shown to be effective in treating some specific symptoms, these therapies often fail to effectively treat the complete list of symptoms linked to fibromyalgia.
Mirtazapine is a central alpha-2 antagonist currently FDA-approved for the treatment of the major depressive disorder. It is a potent antagonist of 5-HT2 and 5-HT3 serotonin receptors, as well as H1histamine receptors.
Andreina A. Ottman and his colleagues reviewed and analyzed the information available in the literature which included data from three randomized, placebo-controlled trials and one open-label trial.
These studies showed that Mirtazapine showed positive effects on measures of pain, sleep, and quality of life in patients with fibromyalgia who had not received treatment before, or who had failed previous treatment options.
Two studies found that the antidepressant drug could significantly reduce pain compared to baseline (the start of the study), whereas the other two showed improvements compared to placebo.
The selected studies lasted 6 to 13 weeks in duration, included mirtazapine doses ranging from 15 to 30mg daily, and evaluated improvements in pain, sleep, and quality of life.
With regard to pain, 2 studies reported a significant improvement when compared to baseline, while 2 other studies found a significant improvement vs placebo. Although the studies used different pain assessment scales, a consistency in efficacy was observed despite the pain scoring system. Two of the trials included patients who were treatment-naive, while the other 2 included treatment-experienced patients who failed previous fibromyalgia therapies.
Significant improvement in sleep quality was observed among mirtazapine-treated patients in 2 studies. In one of these trials, a greater number of patients were classified as insomnia responders in the mirtazapine-treated group vs the placebo arm. Another study showed a significant improvement in fatigue symptoms in 50% of mirtazapine-treated patients while 73% experienced improvement in sleep disturbances.
"The finding that mirtazapine can positively impact the quality of life is important as patients with fibromyalgia report a high impact on their quality of life due to disease burden," the authors said.
The most common adverse effects associated with the treatment reported in the four trials were dry mouth, increased appetite, somnolence, sleepiness, low blood pressure, weight gain, and inflammation of the throat and nose.
The authors said that the key difference, when compared to other treatment options, is that mirtazapine targets many of the symptoms of fibromyalgia with its mechanism of action and simple once-daily dosing.
The authors concluded that based on the literature review mirtazapine was found to be an effective option for fibromyalgia due to its ability to improve pain, fatigue, quality of life, and sleep symptoms.
For more information log on to
https://link.springer.com/article/10.1007%2Fs00296-018-4068-3
Source : With inputs from Rheumatology International