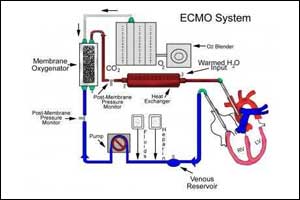 ECMO is a technique of providing prolonged cardiac and respiratory support to persons whose heart and lungs are unable to provide an adequate amount of gas exchange or perfusion to sustain life.
A four-and-a-half-year-old girl, who suffered from pneumonic infection and was diagnosed with a seizure disorder, has received a new lease of life after undergoing an extracorporeal membrane oxygenation (ECMO) procedure at a city hospital, doctors said.The ECMO circuit acts as an artificial heart and lung for the patient during the therapy.
 The girl, Swastika Agarwal, hails from Ghaziabad and is a known case of seizure disorder. She is under treatment with multiple anti-epileptics, and underwent the ECMO procedure at the Apollo Indraprastha Hospital in south Delhi, a spokesperson of the facility said.
"After another seizure episode she was hospitalised and diagnosed with early pneumonic infection. Within 24 hours, it spread to both of her lungs, leading to acute respiratory distress syndrome (ARDS), a condition which is characterised by the inflammation of lungs," the hospital said.
Her X-ray showed that she had developed a patch in the lung which led to worsening of the respiratory distress.
Swastika was then put on"ventilator support with high settings". Despite this time, her oxygenation did not improve, which means her lungs were not filtering sufficient oxygen in the blood, doctors said.
She was then put on ECMO, which is essentially a technique, in which the machine takes over the function of heart and lungs, so the organs can rest and be treated upon.
Swastika was on ECMO from February 4-9, a doctor said, adding, that it had to be done because her "heart was functioning perfectly, her lungs were giving up".
While the childs vital life functions were supported by the machine, Dr. Muthu Jothi, senior consultant, paediatric cardiothoracic surgery at the Apollo hospital operated on her lungs.
"During the procedure, one litre of fluid was drained from the right-side chest cavity and 200 ml was drained from left-side chest cavity. This fluid had accumulated in her body due to pneumonia which was distressing the lung functionality," Jothi said.
While she was under treatment, her lungs had the space an time to recuperate as their function was taken over by the ECMO machine. With rest, they grew better and the next X-ray showed that the condition of the lungs has improved immensely, he said.
Highlighting the uniqueness of the case, he said, ?It is a remarkable case because a child this young is not put on the ECMO machine for treatment. Even if the hospitals have the technology in place, many a times the patient is too weak to bear the treatment."
The little girl braved through the treatment which included multiple days of ECMO and ventilator support, Jothi said.
She was taken off the ventilator on February 15 and will be discharged sometime early next month, the hospital said.