Mine blast Victim regains vision in one eye after Surgery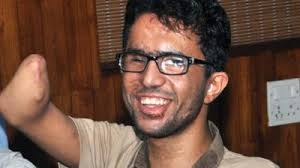 Ophthalmic surgeons at Amrita Institute of Medical Sciences have conducted a rare surgery for complete reconstruction of the eye of a 21-year-old patient. The patient who has come from Yemen had unfortunately been involved and has been a victim of landmine blast in September 2017. His both arms were severed and his eye was damaged in the accident. He was rushed to a hospital n Yemen but doctors ruled out the possibility of him regaining his vision.
Incapable of treating him further, doctors at the Egyptian hospital advised his parents to seek treatment in India. He was first taken to Jaipur where he underwent plastic surgery on his foot. After that was brought to Amrita Institute of Medical Sciences in December 2017. His right eye had shrunk and was beyond recovery but there was hope for the left eye.
The surgery, held at the Amrita Institute of Medical Sciences (AIMS), involved complete reconstruction of the left eye and corneal transplant, which was conducted by a team of ophthalmic surgeons led by Anil Radhakrishnan, consultant (cornea & refractive surgery) and Gopal S Pillai, professor, HOD, Department of Ophthalmology.
"Islam's right eye was beyond any recovery as the structure behind the lens was badly damaged, so we focused on the left eye. We reconstructed the shattered eye structures, conducted corneal transplant and reconstructed the eye again," Dr. Radhakrishnan told the
Hindustan Times
.
The doctors are now contemplating hand transplants in near future.