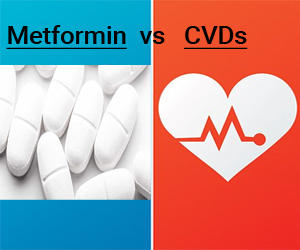 Metformin reduces the risk of major adverse cardiac events including a heart attack in Prediabetes with stable angina, finds a study.
Metformin therapy may protect pre-type 2 Diabetes Mellitus patients from high risk of cardiovascular disease by reducing coronary endothelial dysfunction revealed a study published in Diabetes Care, a journal of the American Diabetes Association (ADA). 
The management of Type 2 diabetes Milletus requires aggressive treatment to achieve glycemic and cardiovascular risk factor goals. In this setting, metformin, an old and widely accepted first-line agent, stands out not only for its antihyperglycemic properties but also for its effects beyond glycemic control such as improvements in endothelial dysfunction, hemostasis and oxidative stress, insulin resistance, lipid profiles, and fat redistribution.
Celestino Sardu et.al conducted a study on 258 propensity score-matched patients with stable angina undergoing coronary angiography to ascertain the effects of metformin therapy on coronary endothelial function and major adverse cardiac events (MACE) in patients with prediabetes with stable angina (Chest pain) and nonobstructive coronary stenosis (NOCS),
The authors analyzed the data from 86 PSM subjects with normoglycemia (NG), 86 PSM subjects with prediabetes (pre-DM), and 86 PSM subjects with prediabetes treated with metformin (pre-DM metformin). During coronary angiography, NOCS was categorized by luminal stenosis <40% and fractional flow reserve >0.80. In addition, the authors assessed the endothelial function, measuring coronary artery diameter of left anterior descending coronary (LAD) at baseline and after the infusion of acetylcholine, by means of an intracoronary Doppler guide wire. MACE, as cardiac death, myocardial infarction, and heart failure, was evaluated at 24 months of follow-up.
Key findings of the study
The patients with pre-DM had a higher percentage of endothelial LAD dysfunction as compared to patients with pre-DM treated with metformin.
 At the 24th month of follow-up, MACE was higher in pre-DM versus NG
 In pre-DM metformin patients, MACE was lower compared with pre-DM patients
Looking at the data the authors concluded that  Metformin therapy may reduce the high risk of cardiovascular events in pre-DM patients by reducing coronary endothelial dysfunction.
Source: https://doi.org/10.2337/dc18-2356