................................ Advertisement ................................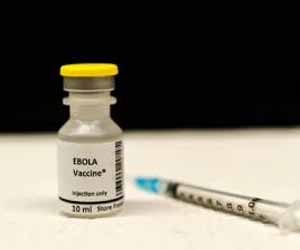 Delhi: The vaccine against Ebola, called Erveb, that has been in development since the Ebola outbreak in West Africa in 2014 has finally received marketing authorization by the European Commission. The approval was granted to the pharmaceutical company Merck Sharp & Dohme B.V. The vaccine is already used to protect people at risk of infection such as health care workers or people exposed to infected persons, as a part of the specific protocol.
WHO defines Ebola virus disease (formerly known as Ebola hemorrhagic fever) is a rare but severe, often fatal illness in humans. The virus is transmitted to people from wild animals and spreads in the human population through human-to-human transmission. The average EVD case fatality rate is around 50%. Case fatality rates have varied from 25% to 90% in past outbreaks.
The current outbreak in the Democratic Republic of Congo (DRC), caused by Ebola Zaire, has shown case fatality rates of approximately 67%. More than 3 000 people have been infected with the Ebola virus during the ongoing outbreak, which was declared a public health emergency of international concern by the World Health Organization (WHO) in July 2019. WHO extended this decision for another three months in October 2019.
................................ Advertisement ................................
"Finding a vaccine as soon as possible against this terrible virus has been a priority for the international community ever since Ebola-hit West Africa five years ago. Today's decision is, therefore, a major step forward in saving lives in Africa and beyond," said Vytenis Andriukaitis, Commissioner in charge of Health and Food Safety, in EC press release.
Read Also: European Medicines Agency grants first approval to Ebola vaccine for European Union
................................ Advertisement ................................
The authorization was granted following the recommendation from the European Medicines Agency (EMA), which has assessed the benefits and risks of the vaccine and said that bringing the vaccine to the market would help control Ebola outbreaks globally. It also follows the recent announcement of a clinical trial for a second Ebola vaccine regimen (Ad26.ZEBOV, MVA-BN-Filo) that is now underway in the Democratic Republic of Congo, with the support of the EU's research and innovation program Horizon 2020.
................................ Advertisement ................................
The vaccine has been tested in 16,000 adults in several clinical studies in Africa, Europe and the United States where it has been proven to be safe, immunogenic, and effective against the Ebola Zaire strain of the virus. Clinical trial results released by the WHO this spring showed the vaccine efficacy was more than 97%.
Read Also: FDA okays first rapid test for Ebola virus disease
With full approval, the vaccine will be cleared for use in 28 countries that are part of the European Union, as well as in European Economic Area countries including Iceland, Liechtenstein, and Norway. The US Food and Drug Administration is reviewing the vaccine.
A licensed vaccine will allow more manufacturing of Ervebo, and streamline the use of the vaccine during an outbreak.
Author Details
Medha Baranwal joined Medical Dialogues as an Editor in 2018 for Speciality Medical Dialogues. She covers several medical specialties including Cardiac Sciences, Dentistry, Diabetes and Endo, Diagnostics, ENT, Gastroenterology, Neurosciences, and Radiology. She has completed her Bachelors in Biomedical Sciences from DU and then pursued Masters in Biotechnology from Amity University. She has a working experience of 5 years in the field of medical research writing, scientific writing, content writing, and content management. She can be contacted at medha@medicaldialogues.in. Contact no. 011-43720751
To know about our editorial team click here
................................ Advertisement ................................