Mediterranean diet reduces mortality risk due to air pollution in CVD patients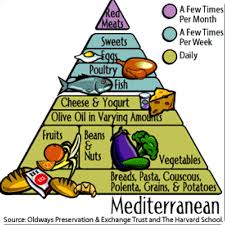 A new study published in the Journal of the American Heart Association has pinpointed that a Mediterranean diet may play an essential role in reducing cardiovascular disease mortality risk related to long-term exposure to air pollutants. It can blunt adverse cardiopulmonary effects induced by air pollution exposure.
Cardiovascular disease (CVD) is the leading global cause of death. Diet is known to be important in the prevention of CVD. Oxidative stress and systemic inflammation are important contributing factors in the development and progression of CVD. Diet, may play an important role in modifying oxidative stress and inflammation. Various studies shows that a traditional Mediterranean diet includes plant foods enriched with antioxidants plays a vital role in managing CDV associated risks.
Through this study, a new prospect of this multi fictional diet has come into light.
The study was performed in a large cohort with detailed diet information at the individual level, in order to understand whether a Mediterranean diet modifies the association between long-term exposure to ambient air pollution and cardiovascular disease mortality risk.
In this study, the researchers linked a prospective cohort (NIH-AARP Diet and Health Study) with 548,845 subjects across six states and two cities in the US with a follow-up period of 17 years (1995-2011) to estimates of annual average exposures to PM2.5and NO2 air pollution at the residential census-tract level.
Via interaction terms, they assessed the effect modification of the links between exposure and mortality outcomes by alternative Mediterranean Diet Index (aMED). Elevated and significant links with CVD, ischemic heart disease (IHD), and cerebrovascular disease (CER) were reported for PM2.5; significant associations with CVD and IHD were reported for NO2. In a large prospective US cohort, Mediterranean diet resulted in attenuation in cardiovascular disease mortality risk linked to long-term exposure to air pollutants.
The findings suggest that Mediterranean diet consumption may be reducing the considerable disease burden associated with ambient air pollution. The sizable disease burden related to air pollution could be attenuated by increasing the intake of foods rich in antioxidant compounds.
To read more about this study you can click on the link provided
https://www.ahajournals.org/doi/10.1161/CIRCULATIONAHA.118.035742