Medicated contact lens could reduce eye allergies and itching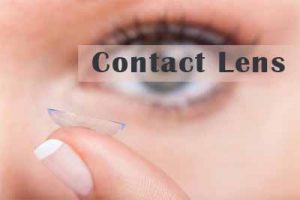 FLORIDA: An investigational antihistamine-releasing contact lens (CL) can provide a means of simultaneous vision correction and treatment for CL wearers with ocular allergies. These are the results of the two phase 3 studies announced by Johnson & Johnson Vision. The study, published in the journal Cornea evaluated the company's investigational antihistamine-releasing contact lens (etafilcon A with 0.019 mg ketotifen).
More than 20 percent of the U.S. population experience ocular allergy, or itchy eyes, when exposed to allergens such as a tree or grass pollen, pet dander or dust. The condition has a similar prevalence worldwide and can have a significant impact on productivity and quality of life, according to the Cornea publication.
The study was conducted to test a contact lens (CL)-based drug delivery system for therapeutic delivery of the antihistamine ketotifenwas in 2 parallel, conjunctival allergen challenge-based trials.
"These Phase 3 study results are important on multiple fronts. Contact lens wearers who historically suffer from itchy, allergy eyes had meaningful reductions in itching across two randomized, well-controlled studies," said Brian Pall, OD, MS, FAAO, Director, Clinical Science, Johnson & Johnson Vision Care, Inc. and lead author of the manuscript. "There was both a clinically and statistically significant reduction in ocular itching that occurred 15 minutes after lens insertion and lasted for the 12-hour study evaluation period. This marks the first time that contact lens technology has shown potential in a large-scale study to address itch stemming from ocular allergies."
The antihistamine-releasing contact lenses worn in the studies are daily disposable lenses containing ketotifen, a drug that inhibits certain substances in the body that are known to cause allergic reactions and inflammation. They were tested in two multicenter, double-masked, randomized, placebo-controlled trials that included 244 patients and used the conjunctival allergen challenge model (Ora-CAC) to measure efficacy.
After the initial screening visits, patients were randomized by eye to receive either the antihistamine-releasing lens or the placebo control lens. The lenses were then worn for either 15 minutes or 12 hours depending on the study visit. After the prescribed wearing time, allergens were dosed into the eyes wearing the contact lenses and the patients reported the severity of their itching symptoms using a 0-4 scale (where 0 equals no itch and 4 equals an incapacitating itch with an irresistible urge to rub).
The primary study endpoint was comparisons of reported itching scores between the two lens types. Across both studies, the patients who wore the antihistamine-releasing contact lenses experienced both a clinically and statistically significant reduction in the average eye itch symptom at both time point evaluations (15 minutes and 12 hours) as compared to those receiving control lenses in the study.
Secondary endpoints in the trials evaluated the reduction in eye redness (ciliary, conjunctival and episcleral vessel beds) while wearing the antihistamine-releasing lens. The antihistamine-releasing lenses did not demonstrate a clinically significant reduction in eye redness.
Key Findings:


The mean itching scores were lower for eyes wearing the test lens as compared to those that received non-medicated control lenses, indicating that the test lens effectively reduced allergic responses.


Mean differences in itching were statistically and clinically significant at both onset and duration for both trials.


The most commonly reported adverse events associated with the antihistamine-releasing lenses were stinging upon insertion (1.7%) and temporary pupil enlargement (2.1%). The stinging upon insertion was generally classified as mild and there were no discontinuations from study treatment based on these or any other ocular adverse events.


"This large-scale assessment is the first demonstration of efficacy for CL delivery of a therapeutic for ocular allergy," they concluded, adding that, results are comparable to direct topical drug delivery and suggest that the lens/ketotifen combination can provide a means of simultaneous vision correction and treatment for CL wearers with ocular allergies.
For detailed study log on to
10.1097/ICO.0000000000001911
Source : With inputs from Cornea