Medical Breakthrough-Doctors repair baby's spine in womb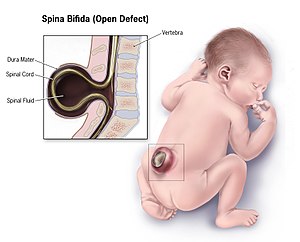 In a major medical breakthrough, doctors at Great Ormond Street Hospital, UK performed a pioneering fetal repair surgery to repair the spine of a baby while she was still inside her mother's womb.
Reportedly Mrs Bethan Simpson and her husband were told to either abort their baby or go for this surgery after the baby was diagnosed with spina bifida at her 20-week scan, but Mrs. Simpson couldn't justify terminating a child she could feel kicking, and the decision to opt for foetal repair was obvious.
"I'm being told she's paralyzed, but she very much wasn't," Mrs. Simpson told BBC. She is believed to be the fourth patient on whom this operation was performed, with most of the surgery taking place in Belgium and united states.
Doctors approved her for the surgery at 24 weeks involved opening her womb and lifting her baby into position to repair the hole, as well as repositioning the baby's spinal cord. The operation was completed in four-hours during which the surgeons first opened her womb and the baby's bottom was exposed which allowed the surgeons to sew up a tiny gap in her lower spine. The procedure was completed successfully and the baby will be delivered in April.
From April, the procedure will be available on the government-run National Health Service in England. Two-hundred babies are born with spina bifida in the UK every year, the report said.
Dominic Thompson, Lead neurosurgeon said, "Until now, when people got this devastating news there were two options - continue with the pregnancy or termination. This now offers a third option,"
" Foetal medicine consultants recognized there were options available "rather than just termination", Gill Yaz, of the spina bifida charity Shine told BBC.
Spina bifida is a birth defect where there is an incomplete closing of the backbone and membranes around the spinal cord. There are three main types: spina bifida occulta, meningocel, and myelomeningocele. The most common location is the lower back, but in rare cases, it may be the middle back or neck. bifida, a birth defect in which a developing baby's spinal cord fails to develop properly. The rate of occurrence of Spina bifida in India is higher in comparison to other developed countries, varying from 1-5 per 1,000 live births in different Indian states.