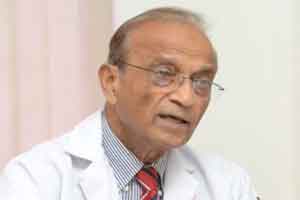 Liver ailments are becoming an increasingly dangerous menace for the country. Rising alcohol use as well as use of unsafe water in the country have contributed to near epidemic of gastro and liver diseases.  According to recent data presented by the World Health Organisation (WHO), around 2 lakh people die every year around the world due to liver ailments.
On the occasion of World Liver Day, Medical dialogues team interviewed Dr Rakesh Tandon, MBBS, MD, FRCP (Hon) as well as Head- Dept of Gastroentrology, Pushpawati Singhania Research Institute (PSRI), New Delhi as well as the Former HOD, Gasteroenterology at AIIMS.
MDT: How can one cope with increase in gastroenterology disease burden in the country?
Dr RT: There are two kinds of Gastro diseases broadly. One, caused by infections such as acute gastroenteritis , acute and chronic hepatitis, intestinal tuberculosis , amebiasis, cholera and other parasitic diseases. They are caused because of abundance of infecting organisms and poor hygienic conditions and clearly are preventable. Some of them have certainly shown a decline at least in big modern cities. However, another set of diseases that have emerged and are on the rise unfortunately are man made, or should I say, outcome of modern lifestyle. They include alcoholic liver disease and pancreatitis, non-alcoholic fatty liver disease (NAFLD) caused because of excessive calorie intake and lack of exercise, and peptic ulcer disease, non ulcer dyspepsia and irritable bowel syndrome caused by 'hurry, worry and curry'. People need to be taught to lead a balanced life and mix pleasure and relaxation along with work, but certainly avoid overindulgence in food and drinks.
MDT: Investigation and treatment of liver disease is become more and more out of the reach of the common man. How can this be prevented?
Dr RT: There are many liver diseases that can be treated with simple tests and cheap medications if they are seen and recognized early by expert physicians or Gastroenterologists. Expensive tests and medicines are required only for a limited number of diseases. A proper, algorithmic approach to managing them can certainly be cost effective. Again that will depend on the expertise and experience of the treating physician. Thus, my advice to the patient would be choose the right doctor for yourself.
MDT: Our country spends so many resources fighting diseases like AIDS, partly due to foreign alms and funding dedicated to the causes, but when it comes to a diseases as prevalent, chronic and life threatening as hepatitis, we even are not sure of our statistics. Please Comment.
Dr RT: That we are not sure of our statistics perhaps hold true for all diseases including AIDS because of lack of proper registry and their follow up. I agree that chronic hepatitis is causing a lot more morbidity and mortality in our country than AIDS and yet much less attention is being given to it as compared with the latter. Liver and gastro societies and many of us as individuals have repeatedly persuaded union and state health ministries to launch full scale preventive measures against hepatitis B and C and certainly some actions have been taken such as universal immunization of infants against hepatitis B. Yet, much remains to be done.
MDT: With increase in the advancement in the science of Gastroenterology as a field, how should physicians keep up with these changes to keep themselves updates?
Dr RT: There is no other way than to keep abreast with the advancements by regularly reading the research papers and review articles and by attending academic conferences and CMEs. Luckily, with advancement in computer and internet technologies, the job has become much easier than before. You can Google almost anything on your tablet or mobile phone and have in hand the latest information regarding any disease or its treatment.
MDT: Sir what is your message to all physicians on the world liver day?
Dr RT: Please remember 'an ounce of prevention is worth a pound of cure'. Thus, staying away from consuming safe, uninfected food and drinks and avoiding close contact with hepatitis patients or with their biological material will keep you safe from these infective diseases. Avoiding overindulgence in food or alcohol and keeping yourself physically active will keep your liver safe. It is also important for everyone to ensure that children at home and in school are encouraged to lead a physically active life and consume healthy nutritious food. Health education at every level, particularly in primary and secondary schools, will go a long way achieving this objective.