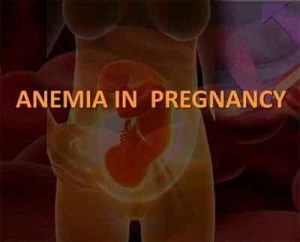 Anaemia in pregnancy is defined as a hemoglobin concentration of less than 110 g/L (less than 11 g/dL) in venous blood. It affects  32 million pregnant women globally. Although more prevalent in less-resourced countries, women from developed countries are also affected and women from both rural and urban areas are vulnerable. In a large international study conducted on over 300,000 women across 29 countries, the researchers of the Queen Mary University of London have found that Pregnant women with anaemia are twice as likely to die during or shortly after pregnancy compared to those without the condition.The findings of the research have appeared in the journal The Lancet Global Health. 
Anaemia affects as many as half of all pregnant women in low-income and middle-income countries with varied causes ranging from dietary iron deficiency, inherited blood disorders, nutrient deficiencies to infections including malaria, HIV and hookworm.
The researchers at Queen Mary University of London lead by Dr Jahnavi Daru analyzed World Health Organization data on 312,281 pregnancies in 29 countries across Latin America, Africa, Western Pacific, Eastern Mediterranean and South East Asia. Of these as many as  4,189 women had severe anaemia (a blood count of less than 70 grams per litre of blood) and were matched with 8,218 women without severe anaemia.Maternal death was defined as death any time after admission until the seventh-day postpartum or discharge. In regression analyses, the researchers adjusted for post-partum haemorrhage, general anaesthesia, admission to intensive care, sepsis, pre-eclampsia or eclampsia, thrombocytopenia, shock, massive transfusion, severe oliguria, failure to form clots, and severe acidosis as confounding variables.
The study results depict that, when all known contributing factors are controlled for, the odds of maternal death are doubled in mothers with severe anaemia.The relationship were found in different geographical areas and using different statistical approaches thereby suggesting an independent relationship between severe anaemia and maternal death does exist.
Various studies in the past had established Anaemia in pregnancy was strongly associated with death, but this was due to other clinical reasons, and not anaemia directly.But according to present study  Anaemia is   a direct cause of  severe maternal morbidity across pregnant populations in both low-income and high-income settings
WHO has recognised anaemia as a global problem with serious consequence for mothers and their babies. Even though anaemia in pregnancy is readily treatable, data from several studies show an association between maternal anaemia and severe adverse maternal and perinatal outcomes.
According to researchers this is the first study to explore the independent association of severe anaemia with maternal mortality. The authors noted an independent association to varying degrees in an ethnically and geographically diverse population.The new research therefore emphasizes that in the present era of progress also prevention and treatment of maternal anaemia must remain a global public health and research priority.
 For more details click on the link: http://dx.doi.org/10.1016/S2214-109X(18)30078-0