Many preconceptual and pregnant women not adhering to dietary guidelines: Study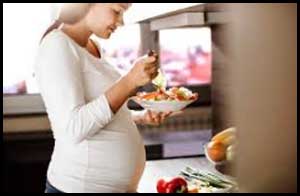 Dietary guidelines exist to promote health and well‐being through the prevention of diet‐related disorders and nutritional deficiencies. This is more important during pregnancy and preconception period.
Many women who are pregnant or trying to conceive have poor diets that could increase the risk of pregnancy complications, a research review suggests. Understanding the factors associated with adherence and non‐adherence can inform future policy and practice aimed at improving overall dietary guideline compliance, during the preconception period and pregnancy. The meta-analysis has been published in Maternal & Child Nutrition.
The analysis of results from 18 previously published studies that assessed pregnancy and preconception diet quality found that women generally didn't consume the minimum recommended amount of vegetables, grains, folate, iron, or calcium. Many pregnant women also get too many calories from fat, the research showed.
"For pre-conceptual and pregnancy health, vegetables are an important source of folate, and cereal grains a valuable source of folate and iron," said Cherie Caut of Endeavour College of Natural Health in Queensland, Australia, who led the study.
Folate and iron help prevent neural tube defects in babies, and reduce the potential for anaemia during pregnancy or low birth weight infants, Caut said by email. Calcium helps protect against preeclampsia.
"Excess dietary fat intake may potentially contribute to unhealthy maternal weight gain," Caut added. "The impact of this weight gain for both the mother and infant can be considerable, with maternal obesity shown to be associated with an increased risk of preeclampsia, gestational diabetes, macrosomia, congenital abnormalities, stillbirth, low birth weight infants and maternal mortality."
During the months right before conception, women generally got enough dairy and more than enough protein. And they generally got enough dairy and fruit during pregnancy, the researchers report in Maternal & Child Nutrition.
Women were more likely to follow dietary guidelines when they were more affluent, nonsmokers, older, and exercised regularly, the study also found.
More than half of the 18 studies were done in Australia, China, and India, and the rest were from Europe, Canada, Japan, and Pakistan. All of the studies measured women's' adherence to national dietary guidelines, not international guidelines, the study authors note. And none looked at men's pre-conception diet quality.
It's possible that more women would follow guidelines if they understood the recommendations and had an easy time accessing and affording groceries, the study team notes.
"Concordance with these guidelines should provide some assurance that energy, macronutrient, and micronutrient intake are adequate to support fertility, pregnancy and positive birth outcomes, as well as the future health of offspring," Caut said. "The findings from this review indicate that women both in the preconception period and throughout pregnancy may be falling short of targets stipulated in dietary guidelines and nutrient recommendations."
For more details click on the link:
https://doi.org/10.1111/mcn.12916
Dietary information for pregnant women is available from the American College of Obstetricians and Gynecologists (here: https://bit.ly/36OEFAw).
Source : Maternal & Child Nutrition