................................ Advertisement ................................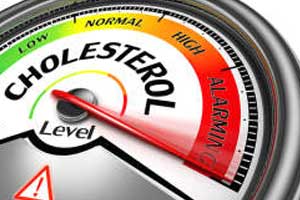 The AHA/ACC has released the updated guideline on the Management of Blood Cholesterol. The new guideline reinforced the importance of a heart-healthy lifestyle, the use of statins as the first line agent in primary and secondary cardiovascular prevention and the importance of risk stratification to identify those who benefit most from these measures.
The class I recommendation first identifies a population 20 years of age or older who have moderate hypertriglyceridemia defined as fasting or nonfasting triglycerides (TG) 175-499 mg/dL (1.9-5.6 mmol/L) and advises searching for and treating secondary factors (see Table 1).
Read Also: Familial hypercholesterolemia does not increase risk of heart attack, finds study
................................ Advertisement ................................
Table 1: Secondary Factors
................................ Advertisement ................................
LIFESTYLE
Obesity
Metabolic syndrome
SECONDARY DISORDERS
Diabetes mellitus or Hypothyroidism
Chronic liver disease
Chronic kidney disease and/or nephrotic syndrome
MEDICATIONS
Hormone-related:
Oral estrogens
Tamoxifen
Raloxifene
Retinoids
Glucocorticoids
Immune-related:
Cyclosporine
Tacrolimus
Sirolimus
Cyclophosphamide
Interferon
Other:
Beta-blockers
Thiazides
Atypical antipsychotics
Rosiglitazone
Bile acid sequestrants
L-asparaginase
Use of Statin Therapy in Moderate Hypertriglyceridemia
The second recommendation (class IIa) is targeted at adults age 40-75 with moderate or severe hypertriglyceridemia >500mg/dL (5.6mmol/L) with an ASCVD risk of 7.5% or higher for whom the above factors have been addressed. It identifies persistently elevated TG as a risk enhancer which favours the initiation or intensification of statin therapy to reduce ASCVD risk.
Use of Statin Therapy in Severe Hypertriglyceridemia
The third recommendation (class IIa) endorses the initiation of statins in those with severe hypertriglyceridemia with ASCVD equal to or greater than 7.5% in concert with addressing secondary factors.
Other Therapies in Severe Hypertriglyceridemia
The fourth recommendation (class IIa) is directed towards those with severe hypertriglyceridemia and especially those with triglycerides ≥1,000 mg/dL (11.3mmol/L). It is more complex and addresses many of the factors traditionally discussed in the management of hypertriglyceridemia. Although most cases of severe hypertriglyceridemia have a genetic component, secondary conditions often contribute to and addressing secondary factors is again recommended.
An understanding of the biochemical makeup of patients with hypertriglyceridemia is key to following the intricacies for managing moderate vs severe hypertriglyceridemia. The synopsis reviews this in the 2018 ACC/AHA guideline and is summarized in Table 2.
Table 2: The Categories of Hypertriglyceridemia, Lipoproteins Involved, Goals, and Therapies
CATEGORY OF HYPERTRIGLYCERIDEMIA

ELEVATED LIPOPROTEIN(S)

GOAL

TREATMENT

MODERATE HTG – FASTING OR NONFASTING TRIGLYCERIDES 150-499 MG/DL
VLDL (atherogenic similar to LDL)
Reduce VLDL and ASCVD risk
-Address secondary factors
-Statin
SEVERE HTG – FASTING TRIGLYCERIDES ≥500 MG/DL
Elevated VLDL
and
chylomicrons
Reduce ASCVD risk
and
risk of acute pancreatitis
-Address secondary factors
-Statin
and
-Very low fat
diet
-Avoid refined carbohydrates and alcohol
-Omega-3 fatty acids
-Fibrates
Read Also: Cottonseed oil has cholesterol lowering benefits
There are two categories of hypertriglyceridemia, moderate and severe. In the former, the excess TGs are carried in very low-density lipoprotein (VLDL) versus whereas in the latter they are carried in VLDL and chylomicrons.
While VLDL is believed to be atherogenic, similar to LDL, elevated chylomicrons impart an increased risk of acute pancreatitis. This risk increases with the degree of elevation of TGs and those who have TGs in the range of 500-999 mg/dL are at risk of further significant fluctuations in TGs, placing them at especially high risk for acute pancreatitis.
If TGs remain elevated or are increasing after secondary factors are addressed, then clinicians are advised to further reduce TGs with a very low-fat diet, avoidance of refined carbohydrates and alcohol, consumption of omega-3 fatty acids and consideration of fibrate therapy if concern for acute pancreatitis. If a fibrate is necessary, then fenofibrate is recommended over gemfibrozil due to lower risk of myopathy.
The guidelines stress that although statins are known to reduce TGs, they alone cannot prevent acute hypertriglyceridemic pancreatitis in the setting of secondary causes. Rather fibrates or omega-3 fatty acids are the go-to pharmacological therapies.
The ACC/AHA guidelines give passing mention to niacin as a TG lowering therapy but do not explicitly recommend it. It is highlighted that statin therapy is not advised for pregnant women with hypertriglyceridemia due to unclear effects during pregnancy. It is advised that severe or life-threatening hypertriglyceridemia during pregnancy be managed in consultation with a lipid specialist.
For full information log on to
https://www.ahajournals.org/doi/10.1161/CIR.0000000000000625
Vinay Singh joined Medical Dialogue as Desk Editor in 2018. He covers the medical speciality news in different medical categories including Medical guidelines, updates from Medical Journals and Case Reports. He completed his graduation in Biotechnology from AAIDU and did his MBA from IILM Gurgaon. He can be contacted at editorial@medicaldialogues.in . Contact no. 011-43720751
................................ Advertisement ................................