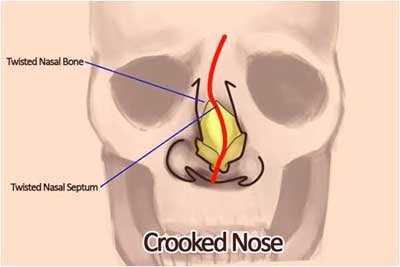 The study has been published in International Journal of Head and Neck Surgery published by Jaypee Journals.
Patients with crooked nose suffer from functional ailments, most significant nasal obstruction, as well as esthetic concerns which may impact their self-image as well as others' perception of them. As such, management of the crooked nose is an especially challenging task in that it demands careful attention to both nasal function and appearance. There are a plethora of surgical techniques which may be utilized, and the surgeon's approach must be tailored to each individual patient's presentation.
Scordino JW, Stucker FJ, through a recent study published in International Journal of Head and Neck Surgery, published by Jaypee Journals tried to analyse and describe an approach for the diagnosis and management of patients presenting with crooked nose.
The authors analysed that  Accurate diagnosis is imperative for a successful outcome and relies on a thorough history and careful physical examination. Surgical intervention may be addressed by either an endonasal or open approach based on the location and severity of the deformity. It is helpful to break down the nose in vertical thirds when planning your surgical approach. Different techniques are used to address the upper third comprising the nasal bones, middle third composed of the upper lateral cartilages and septum, and the lower third composed of the lower lateral cartilages and caudal septum.
The authors concluded that  Management of the crooked nose is a technically challenging endeavor that highlights the need to address both form and function for a successful outcome. Effective treatment can significantly improve a patient's quality of life leading to a high level of satisfaction for both the patient and the surgeon.
Citation: Scordino JW, Stucker FJ. Management of the Crooked Nose. Int J Head Neck Surg 2016;7(3):168-172.
You can read the full Article by clicking on the link :
http://www.jaypeejournals.com/eJournals/ShowText.aspx?ID=10218&Type=FREE&TYP=TOP&IN=_eJournals/images/JPLOGO.gif&IID=783&Value=11&isPDF=YES