................................ Advertisement ................................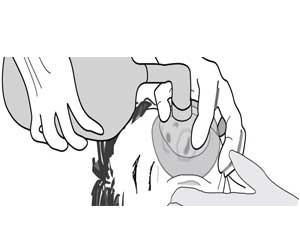 Société Française d'Anesthésie-Réanimation, SFAR has released new French guidelines on Airway management during pediatric anesthesia. The guidelines were formulated by a consensus committee of 17 experts from the French Society of Anaesthesia and Intensive Care Medicine (Société Française d'Anesthésie-Réanimation, SFAR) and the Association of French-speaking pediatric anesthesiologists and intensivists (Association Des Anesthésistes Réanimateurs Pédiatriques d'Expression Francophone, ADARPEF).
The panel focused on 7 questions: 1) Supraglottic Airway devices 2) Cuffed endotracheal tubes 3) Videolaryngoscopes 4) Neuromuscular blocking agents 5) Rapid sequence induction 6) Airway device removal 7) Airway management in the child with recent or ongoing upper respiratory tract infection. Population, intervention, comparison, and outcomes (PICO) questions were reviewed and updated as needed, and evidence profiles were generated. The analysis of the literature and the redaction of the recommendations were then conducted according to the GRADE® methodology.
It is a matter of satisfaction that substantial agreement exists among experts regarding many strong recommendations for paediatric airway management.
................................ Advertisement ................................
Following are the major recommendations: 
It is probably recommended to use a supraglottic airway rather than tracheal intubation in case of short-lasting elective superficial surgery in order to reduce the incidence of laryngospasm and hypoxemia during removal of the device.
For tonsillectomy, it is recommended to protect the upper airway with a cuffed tracheal tube.
In case of unanticipated difficult intubation and ventilation, it is recommended to use a supraglottic airway to try to ensure the child's oxygenation.
It is recommended to monitor cuff pressure in supraglottic airways with an inflatable cuff and to limit this pressure to 40 cm/H2O.
For endotracheal intubation, it is recommended to use cuffed rather than uncuffed tubes and to monitor the cuff pressure (not to exceed 20 cm/H2O).
It is probably recommended to use video laryngoscopy as the first option for patients with anticipated difficult intubation but possible mask ventilation, or after the failure of direct laryngoscopy, to increase the probability of successful intubation.
Except in situations when rapid sequence induction and the use of succinylcholine are indicated, it is probably recommended to use a non-depolarizing muscle relaxant to improve intubation conditions during elective intravenous induction of anaesthesia in children.
It is recommended to use a rapid onset muscle relaxant during classic rapid sequence induction.
During classic rapid sequence induction in children, it is probably recommended to use succinylcholine as the first choice. In the case of contra-indication to succinylcholine, it is probably recommended to use rocuronium.
In children with an upper airway infection, it is recommended to use a facemask for airway management if the type and duration of the surgical procedure are compatible, and if the child is not at risk of aspiration.
In children with URI, before the age of 6, it is probably recommended to administer inhaled salbutamol before general anaesthesia.
In children with a URI, it is probably not recommended to use lidocaine (IV or topical) at induction to decrease the incidence of perioperative respiratory adverse events.
The experts suggest extubating a child who was difficult to intubate when the patient is fully awake, after at least 3 minutes of spontaneous ventilation with 100% O2, under full standard monitoring, and in the presence of trained assistant, with a difficult intubation trolley available in the room. The experts suggest extubating any child in which difficult extubation is suspected over a hollow airway exchange catheter.
................................ Advertisement ................................
For more details click on the link: https://doi.org/10.1016/j.accpm.2019.02.004
................................ Advertisement ................................
Author Details
Hina Zahid Joined Medical Dialogue in 2017 with a passion to work as a Reporter. She coordinates with various national and international journals and association and covers all the stories related to Medical guidelines, Medical Journals, rare medical surgeries as well as all the updates in the medical field. Email: hina@medicaldialogues.in. Contact no. 011-43720751
To know about our editorial team click here
................................ Advertisement ................................