Management of metabolic acidosis: French expert panel guidelines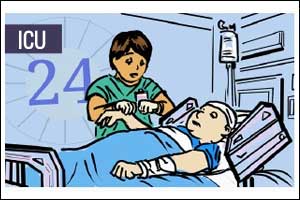 Société de Réanimation de Langue Française (SRLF) and Société Francophone d'Urgences Médicales (SFUM) have proposed formal guidelines on on the diagnosis and management of metabolic acidosis.This is an update on 1999 consensus conference on "correction of metabolic acidosis in intensive care unit.Metabolic acidosis is a frequent event in patients receiving emergency treatment or intensive care unit.
The Henderson–Hasselbalch method defines metabolic acidosis by the presence of an acid–base imbalance associated with a plasma bicarbonate concentration below 20 mmol/L. The association of this imbalance with decreased pH is called "acidemia," which is often described as severe when the pH is equal to or below 7.20.Acute metabolic acidosis may accompany various diseases and be associated with organ failure, in particular respiratory (increased ventilatory demand) and cardiovascular (arterial vasodilation, decreases in cardiac inotropism and cardiac output, ventricular arrhythmia).
Following are the major recommendations:
1. Diagnostic strategy


The experts suggest that arterial blood gas measurements be performed in patients with a decreased plasma bicarbonate level so as to eliminate respiratory alkalosis, confirm the diagnosis of metabolic acidosis, and test for mixed acidosis


Measurement of base deficit should probably not be preferred to that of plasma bicarbonate in identifying patients at risk of metabolic acidosis


The anion gap corrected for albumin should probably be used rather than the uncorrected anion gap to differentiate acidosis related to acid load from acidosis related to base deficit


The experts suggest first applying the Henderson–Hasselbalch method using the plasma anion gap corrected for albumin for the diagnosis of the mechanism of metabolic acidosis. However, the Stewart method gives insight into situations unexplained by the Henderson–Hasselbalch method: acid–base imbalance secondary to blood sodium and chloride imbalance and complex disorders


The experts suggest using an algorithm to improve the etiological diagnosis of metabolic acidosis


The experts suggest that the urinary anion gap should only be calculated in metabolic acidosis without unmeasured anions or obvious etiology


The experts suggest that measurement of urinary pH should be restricted to patients with metabolic acidosis without unmeasured anions or obvious etiology, and with a strong clinical suspicion of tubular acidosis


The experts suggest that a normal value of venous lactate discounts hyperlactatemia


Arterial lactate should probably be measured to confirm hyperlactatemia in case of increased venous lactate


Capillary blood lactate should not be measured to diagnose hyperlactatemia


Capillary blood ketones rather than urine ketones should be measured when diagnosing ketoacidosis


2. Patient assessment and referral


The pH value should probably not be used alone to identify critically ill patients


Hyperlactatemia, whatever its value, should be considered as a marker of severity in initial treatment. Diagnostic and therapeutic management should be rapid and multidisciplinary if needed


Increase in blood lactate should probably be controlled in the first hours of management so as to assess the response to treatment


The experts suggest close monitoring of patients with diabetic ketoacidosis, ideally in an Intensive Care Unit


3. Therapeutic management


Insulin should probably be administered intravenously rather than subcutaneously in patients with diabetic ketoacidosis


An insulin bolus should probably not be administered before starting continuous intravenous insulin therapy in patients with diabetic ketoacidosis


Low continuous intravenous insulin doses should probably be administered in the treatment of diabetic ketoacidosis


The experts suggest using an initial dosage of 0.1 IU/kg/h without exceeding 10 IU/h, and to increase it in the absence of hypokalemia, if the targets for correction of blood ketones (0.5 mmol/L/h), bicarbonate (3 mmol/L/h), and capillary blood glucose (3 mmol/L/h) are not reached after the first hours of treatment


The experts suggest administering sodium bicarbonate to compensate for gastrointestinal or renal base loss in case of poor clinical tolerance


Sodium bicarbonate should probably be administered to intensive care patients with severe metabolic acidemia (pH ≤ 7.20, PaCO2 < 45 mmHg) and moderate to severe acute renal insufficiency, so as to improve prognosis


Sodium bicarbonate should not be administered routinely in the therapeutic management of circulatory arrest, apart from pre-existing hyperkalemia or poisoning by membrane stabilizers


Sodium bicarbonate should probably not be administered to patients with diabetic ketoacidosis


The experts suggest administering sodium bicarbonate in the therapeutic management of salicylate poisoning, whatever the pH value


In case of shock and/or acute renal insufficiency, the experts suggest initiation of renal replacement therapy if the pH is below or equal to 7.15 in the absence of severe respiratory acidosis and despite appropriate treatment


In case of lactic acidosis suggestive of metformin poisoning, the experts suggest early initiation of renal replacement therapy when there is organ dysfunction or in the absence of improvement in the first hours of therapeutic management


In case of methanol or ethylene glycol poisoning, the experts suggest initiation of renal replacement therapy if the anion gap is above 20 mEq/L or if there is renal insufficiency or visual impairment


In metabolic acidosis associated with salicylic acid poisoning, the experts suggest initiation of renal replacement therapy when there is neurological involvement and/or if the salicylic acid concentration is above 6.5 mmol/L (90 mg/dL) and/or if the pH is less than or equal to 7.20


The experts suggest compensating for acidemia by increasing respiratory frequency without inducing intrinsic positive end-expiratory pressure, with a maximum of 35 cycles/min and/or a tidal volume up to 8 mL/kg of body mass, and by monitoring plateau pressure. The aim of ventilation is not to normalize pH. A target pH greater than or equal to 7.15 seems reasonable. Medical treatment of metabolic acidosis and of its cause should be envisaged concomitantly, as ventilatory compensation can only be symptomatic and temporary


For more details click on the link:
h
ttps://doi.org/10.1186/s13613-019-0563-2