Management of LDL Cholesterol- Atorvastatin 40 or 80mg? Answers Indian Heart Journal Study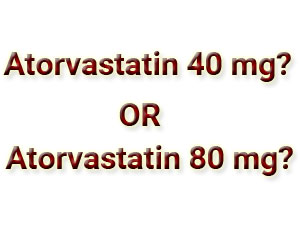 New Delhi: 40 mg dose of Atorvastatin may be a better option for management of LDL cholesterol levels in Indian patients with dyslipidemia with negligible side-effects when compared to its 80mg dose, a study published in Indian Heart Journal has found.
The study was performed by the doctors of the cardiology department at Sir Ganga Ram Hospital, New Delhi to compare the effectiveness of atorvastatin 40 mg vs 80 mg on Low-Density Lipoprotein- Cholesterol in Indian patients with atherosclerotic dyslipidemia. The doctors found that both the doses (40mg and 80mg) were equally effective, however, the later dose was associated with an increased risk of dose-related adverse effects such as myalgia.
Dyslipidemia is an abnormal increase of plasma cholesterol, triglycerides (TGs), or both, or a low HDL cholesterol level that contributes to the development of atherosclerosis. It is the most important atherosclerotic risk factor. Studies have reported that 25–30% of the urban Indian population and 15–20% rural Indian population are affected with high-cholesterol levels. The most common dyslipidemia in India is borderline high LDL cholesterol, low HDL cholesterol, and high triglycerides. The statins, or HMG-CoA reductase inhibitors, have majorly contributed to managing dyslipidemia. More specifically, the drugs of the statin family are considered as the first-line treatment for hypercholesterolemia in patients who have failed to adequately respond to dietary therapy. However, it has acquired global concerns for its side-effects.
"Our primary motive of the study was to compare the effects of atorvastatin 40 mg vs 80 mg on LDL-C in Indian patients with atherosclerotic dyslipidemia. But we also wanted to compare the effects of atorvastatin 40 mg vs 80 mg on HDL-C and triglycerides and also the side effects (myopathy, hepatotoxicity as well as new onset diabetes mellitus) of both doses"- Dr Deepak Agrawal, a leading cardiologist and the corresponding author of the paper, told Medical Dialogues.
To compare the efficacy of the two doses (40 mg and 80 mg) of atorvastatin (a statin drug), doctors conducted a prospective, randomized, open-label, comparative study which included 240 patients of dyslipidemia (as per ACC/AHA 2013 lipid guidelines) attending the OPD/wards/CCU of the department of cardiology at Sir Ganga Ram Hospital. The patients were randomly divided into 2 groups of 120 each. Group A consisted of patients who received Atorvastatin 40 mg daily and Group B Atorvastatin 80 mg daily with a 6 month's follow up period.
At 3 and 6 months follow up, Atorvastatin 40 mg led to mean LDL cholesterol reduction of 47.18 ± 20.81 & 50.03 ± 18.06 respectively. While Atorvastatin 80 mg resulted in LDL reduction as 50.11 ± 15.85 & 52.30 ± 13.72. The comparison between two doses revealed a non-significant difference. However, At 6 months of follow up, some patients from both the groups reported myalgia (2 in group A and 7 in Group B). The difference between groups was significant. Having said that , none of the patients had a significant elevation of CPK, the authors found.
The results made the doctors conclude that while both the doses are equally effective, however higher dose was associated with incidences of mylagia.
"Both doses of atorvastatin (40 & 80 mg) are equally efficacious in improving dyslipidemia in Indian patients but higher dose leads to more incidence of myalgia. Therefore we can use atorvastatin 40 mg dose in Indian patients of dyslipidemia"- Dr Deepak Agrawal added.
The doctors suggested that reducing statin dose from 80 mg to 40 mg may help reduce some dose-related adverse effects of statins like myalgia.
Check out more about this article by clicking the link.
https://doi.org/10.1016/j.ihj.2018.01.034