Management of dermatophytosis-Indian Guidelines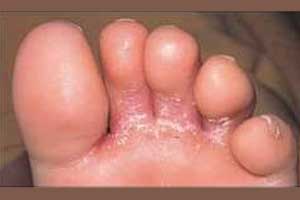 An Indian Expert Forum Consensus Group ECTODERM India has released guidelines on the latest diagnosis and management of dermatophytosis in India which has appeared in BMC Dermatology.
Dermatophytes, the most common causative agents, are assuming high significance in developing countries like India. India has a high prevalence of dermatophytosis to the tune of 36.6% to 78.4 %. These organisms metabolise keratin and cause a range of pathologic clinical presentations, including tinea pedis, tinea corporis, tinea cruris, etc. The diagnosis is at times difficult due to large lesions, prolonged chronicity, ring within ring lesions, more than one site lesions and locally applied medications obscuring the true picture. Although usually painless and superficial, these fungi can behave in an invasive manner, causing deeper and disseminated infection and should not be neglected.
Key Recommendations-
Diagnosis


For diagnostic testing, a microscopic 10% KOH mount examination should be done at the point of care. The lesions edges should be used for scraping and sample should be sent in a dry black strong paper to avoid bacterial contamination.


In recalcitrant and multi-site tinea cases, fungal cultures should be reserved. Vellus hair involvement can be delineated with dermoscopy examination and will require systemic treatment if involved.


Treatment


A combination of topical and systemic antifungals must be empirically used to treat naive and recalcitrant Tinea pedis cases


Topical antifungals alone can be empirically used to treat naïve tinea cruris and corporis(localised lesion) cases, but in case of extensive lesions and recalcitrant cases, a combination of topical and systemic antifungals should be used


The drugs of choice are the topical azoles since they have an anti-inflammatory, antibacterial and a broad spectrum antimycotic activity


Terbinafine 250 mg daily or itraconazole 100 mg–200 mg daily are the preferred systemic drugs of choice for naïve tinea cases, but only itraconazole 200 mg–400 mg daily is preferred in recalcitrant cases


In recalcitrant cases, the minimum duration of treatment should be > 4 weeks, but in naïve cases, 2–4 weeks treatment duration can suffice


In deep inflammatory, multisite lesions, non-responders, and T. rubrum syndrome cases, higher doses of systemic antifungals need to be considered.


Systemic therapy should be considered in villous hair involvement.


Abrupt withdrawal of corticosteroids should be practised in tinea incognito, with Itraconazole, 200 mg – 400 mg daily, for a minimum duration of 4–6 weeks or more.


Topical corticosteroid use in the clinical practice of tinea management is strongly discouraged.


Adjuvant therapies like antihistamines, salicylic acid and moisturisers play important role in the management.


Treatment in special groups-


Systemic therapy and treating the elderly require baseline LFTs and periodic monitoring should be considered


In the paediatric age group, topical antifungal monotherapy is the empiric therapy of choice, and only in cases of extensive lesions and recalcitrant cases should systemic agents such as fluconazole and terbinafine be considered


Antifungal treatment should be individualized in the elderly, and in patients with comorbid conditions


Topical antifungals are preferred in any trimester of pregnancy.


The standard recommendations from current guidelines are not relevant in the current Indian context. Therefore it was agreed mutually between the experts of clinical dermatology and mycology to develop the experience-based consensus statement.
For further reference log on to :
https://doi.org/10.1186/s12895-018-0073-1
Source : With inputs from BMC Dermatology