Management of ankle sprain-Updated guideline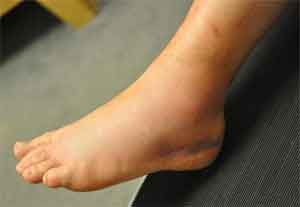 A multidisciplinary guideline committee has released Clinical Practice Guideline (CPG) on the diagnosis, treatment, and prevention of ankle sprain.
The aim of this updated evidence-based clinical guideline is to facilitate uniformity of diagnosis and treatment of acute lateral ankle sprain (LAS) injury, with the primary purpose of reducing the long-term injury-associated symptoms resulting from this prevalent injury.
The guideline is published in the British Journal of Sports Medicine (BJSM).
Also Read: Total ankle arthroplasty offers patients greater range of motion and less pain
KEY RECOMMENDATIONS
Predisposing factors


When treating patients with an acute LAS, modifiable risk factors such as deficiencies in proprioception and ROM (range of motion) should be identified and if possible included in a prevention and/or rehabilitation programme to mitigate the risk for recurrent sprains.


Extrinsic risk factors, although outside of the patient, may provide a significant increase in the risk of sustaining a LAS. Healthcare professionals involved in treating patients who sustain a LAS should take notice especially of the type of sport practiced but also of other extrinsic risk factors, as modifications may lower the risk at future sprains and other ankle injuries.


Prognostic factors


Following acute LAS, adequate attention should be directed towards the patient's current level of pain, their workload, and level of sports participation. These may all negatively influence recovery and increase the risk of future injury recurrence. Hence, they should be addressed early in the treatment process.


Diagnostics


Regarding the clinical assessment of damage to the anterior talofibular ligament, the sensitivity (84%) and specificity (96%) of assessment using the anterior drawer are optimized if clinical assessment is delayed for between 4 and 5 days post-injury. In case of a suspected fracture, the OAR (Ottawa ankle rules) should be applied.


Treatment


There is no evidence that Rest Ice Compression Elevation (RICE) alone, or cryotherapy, or compression therapy alone has any positive influence on pain, swelling or patient function. Therefore, there is no role for RICE alone in the treatment of acute LAS.


NSAIDs (non-steroidal anti-inflammatory drugs) may be used by patients who have incurred an acute LAS for the primary purpose of reducing pain and swelling. However, care should be taken in NSAID usage as it is associated with complications and may suppress or delay the natural healing process.


Use of functional support and exercise therapy is preferred as it provides better outcomes compared with immobilization. If immobilization is applied to treat pain or edema, it should be for a maximum of 10 days after which functional treatment should be commenced.


Use of functional support for 4–6 weeks is preferred over immobilization. The use of an ankle brace shows the greatest effects compared with other types of functional support.


Exercise therapy should be commenced after LAS to optimize recovery of joint functionality. Whether exercise therapy should be supervised or not remains unclear due to contradictory evidence and requires further research.


A combination with other treatment modalities, such as exercise therapy, enhances the efficacy of manual joint mobilization and is therefore advised.


Despite good clinical outcomes of surgery after both chronic injuries and an acute complete lateral ligament rupture, functional treatment is still the preferred method as not all patients require surgical treatment. This also helps to avoid unnecessary exposure to invasive (over) treatment and unnecessary risk of complications. However, treatment decisions have to be made on an individual basis. In professional athletes, surgical treatment may be preferred to ensure a quicker return to play.


As no strong evidence exists on the effectiveness of these treatment modalities, they are not advised in the treatment of acute LAS.


To refine communication between healthcare professionals involved in the treatment of patients with LAS, a communication checklist is recommended.


Prevention


Both tape and brace have ar ole in the prevention of recurrent LAS despite limited evidence on mechanisms that leads to these beneficial effects. The choice of usage should depend on personal preferences.


It is advised to start exercise therapy, especially in athletes, as soon as possible after the initial sprain to prevent recurrent LAS. Exercise therapy should be included in regular training activities as much as possible as home-based exercise. The preventive effect of exercise therapy for first-time LAS lacks evidence.


Due to the inconclusiveness of evidence, no recommendations can be made concerning shoe wear.


Resuming work


To speed up the return to work, a brace and immediate functional treatment in combination with a return to work schedule are advised.


Sport resumption


Supervised exercises focusing on a variety of exercises such as proprioception, strength, coordination, and function will lead to a faster return to the sport in patients after a LAS and are therefore recommended.


For further reference follow the link:
http://dx.doi.org/10.1136/bjsports-2017-098106
Source : With inputs from British Journal of Sports Medicine