................................ Advertisement ................................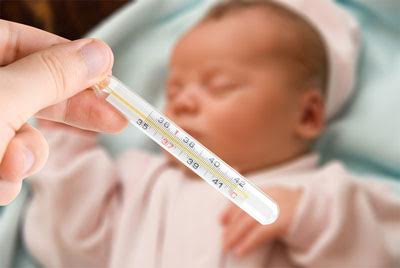 Pediatric Emergency Medicine chapter of Academic College of Emergency Experts in India developed an evidence-based consensus for evaluation and management of febrile child in emergency department.These guidelines have been developed under the aegis of INDO-US Emergency and Trauma Collaborative.
Fever is the most common complaint for a child to visit hospital.In the guidelines relevant factors considered include presence of localizing symptoms, evidence based on epidemiology, immune status, ill or not appearance, fever duration, and the child's age.
General concepts
Core body temperature measured via the rectum is the most accurate and preferred measurement, especially in very young children
Triage by trained health professional should result in a quick and fast clinical assessment
Whether the febrile child appears well or ill should be ascertained using the paediatric assessment triangle and/or Paediatric Early Warning Scores (PEWS) along with vital signs measurements of the temperature, heart rate, respiratory rate, blood pressure, and pulse oximetry to further quantify the illness severity
Irrespective of the cause of the fever, lifesaving resuscitative measures should be started in every febrile child at risk for cardio-pulmonary compromise and septic shock
Procedures of intravenous or intraosseous vascular access, airways management with supplemental oxygen and cardiac monitoring should be initiated in these cases
If the resources are present, resuscitation can be bedside guided by bedside glucose testing, capillary blood gas analysis, point-of-care serum electrolytes measurements, and ionized calcium and lactate levels
Based on the suspected bacterial overload, empiric broad spectrum antibiotics should be given immediately
Rapid and adequate amounts of IV isotonic fluids should be given if the patient is in shock
Localized versus unlocalised symptoms/signs
Localised: A child with fever and localizing symptoms/signs is easier to manage specifically. The focus of infection should be ascertained as early as possible since the management will depend on the common organisms seen in that particular age group. For viral etiologies, only supportive treatment and a follow up is needed.
................................ Advertisement ................................
Unlocalised: In India, febrile children without any localization are very commonly seen. Conditions such as malaria, dengue, and enteric fever fall in this bracket and their overlapping clinical presentations make them difficult to diagnose in the ED.
ACEE recommendations want the febrile child without any localization to be categorized either into well- or ill-/toxic-appearing child. All at ages emergency hospitalization and comprehensive evaluation is recommended in such a child.
................................ Advertisement ................................
Age wise evaluation and management criteria
Evaluating and managing a well-looking child is based on defined age groups that is neonates (28 days and less), young infant (29 to 90 days); older infant and young children (91 days to 2 years), and children more than 2 years.
For febrile new-borns (<28 days): It is mandatory that all new-borns with fever be admitted and undergo a complete investigative workup including a complete blood count (CBC), C- reactive protein (CRP), peripheral blood smear (PBS) (band form, toxic granules, vacuolization, immature/total ratio ), blood and urine culture, urine analysis (UA), lumbar puncture (LP), and chest X- ray (CXR). Stool examination for pus cell and red blood cell (RBC) is not mandatory but can be done if stool symptoms are present. Do not discharge the active febrile new-born even if the first septic screen is negative.
For young febrile infants (29 to 90 days): If active, observe and measure vitals in the ED. Do the mandatory complete blood count (CBC), peripheral blood smear (PBS), urine analysis (UA), and blood and urine culture. Chest X-ray is indicated if the temperature is >102.2°F (39°C), leucocyte count is >20,000 per mm3 or respiratory signs are present. Urine microscopy and urine culture obtained by catheterization is recommended.
For febrile child of 91 days to 2 years: Lumbar puncture may be deferred sometimes in this age group. Mandatory tests include a complete blood count (CBC), C-reactive protein (CRP), peripheral blood smear (PBS) (band form, toxic granules, vacuolization, immature/total ratio), blood and urine culture, and urinalysis.
For febrile children above 2 years: If temperature <39°C, only observe. If temperature is >39°C, do a CBC, CRP, PBS (band form, toxic granules, vacuolization, immature / total ratio), blood and urine culture, and urinalysis. In endemic areas, do a peripheral blood smear, and rapid tests for malaria, dengue, and enteric fever. Blood cultures may also be done in typhoid-endemic areas.


Investigations for serious bacterial infections

CBC, procalcitonin (PCT), CRP and lab score >3 are regarded as useful markers for serious bacterial infection (SBI) even though the sensitivity and specificity is better in the age group of <90 days versus the age group of <180 days. Absolute band cells and PCT are the best markers of SBI in children <36 months of age. But, PCT is costly and its limited availability makes it impossible to use as a screening tool in Indian context.

Management

Intravenous (IV) access and empiric antibiotics in ill-appearing neonates and young infants should be started in the ED
Ampicillin 100 to 200 mg/kg/day tid and Gentamicin 7.5 mg/kg/day tid should be started in febrile infants <28 days old
IV Ceftriaxone 100 mg/kg/day or 75 mg/kg/day bd can be given if meningeal involvement is present in older infants

Admit or Discharge?

Once stabilized in ED, the child may be admitted to the hospital or discharged based on the following parameters.

Indications for hospitalization include all emergency patients in need of:

airway stabilization
ventilation or continued O2 requirement
patients <28 days of age
prolonged seizure/status epilepticus
altered sensorium
electrolyte imbalance
signs of severe dehydration
patient not feeding well
respiratory distress
SPO2 <90% in room air
drug toxicity or drug reaction
unknown or undetermined cause
concern for non-compliance or inability of follow-up

The indications for discharge are:

no emergent need for airway, ventilation or circulatory support
stable vitals
child accepting, definitive management plan has been worked out
compliance and follow up are ensured
Dr Kamal Kant Kohli-MBBS, DTCD- a chest specialist with more than 30 years of practice and a flair for writing clinical articles, Dr Kamal Kant Kohli joined Medical Dialogues as an Editor-in-Chief for the Speciality Medical Dialogues section. Besides writing articles, as an editor, he proofreads and verifies all the medical content published on Medical Dialogues including those coming from journals, studies,medical conferences,guidelines etc.
Before Joining Medical Dialogues, he has served at important positions in the medical industry in India including as the Hony. Secretary of the Delhi Medical Association as well as the chairman of Anti-Quackery Committee in Delhi and worked with other Medical Councils in India. Email: editorial@medicaldialogues.in. Contact no. 011-43720751
To know about our editorial team click here