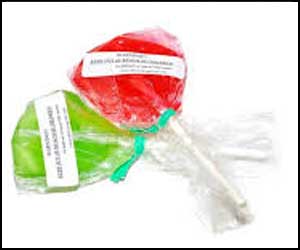 Dr Alexandra Saunders at Dalhousie University Internal Medicine Program, Halifax , Nova Scotia, Canada and colleagues have reported a case of Heart attack precipitated by Marijuana Lollipop.The case has appeared in Canadian Journal of Cardiology.
There has been widespread legalization of cannabis use for both medical and recreational purposes, health care providers need to understand and manage cannabis use and its complications in older patients, particularly in those with cardiovascular disease (CVD).
A marijuana lollipop with a very high dose of the drug's active ingredient tetrahydrocannabinol (THC) may have triggered a man's heart attack, according to a new report of the man's case.
According to history ,a  70-year-old man with known coronary artery disease presented with crushing chest pain, diaphoresis, and pallor after consuming a marijuana lollipop.He had decided to try edible marijuana to see if it would reduce the pain from his osteoarthritis and help him sleep.He in fact  consumed nearly an entire marijuana lollipop, which contained a staggering 90 milligrams of THC, more than 12 times the dose in a typical joint.
The patient started having excruciating  pain within 30 minutes of consumption of marijuana lollipop. His troponin T increased from 94 ng/L to 216 ng/L, with slight ST changes but no gross ST elevations. Discharge diagnosis was non–ST-elevation myocardial infarction, and subsequent nuclear medicine wall motion studies showed worsening ejection fraction (40% to 31%). He also described worsening functional status and exercise capacity after the event.
"Marijuana can be a useful tool for many patients, especially for pain and nausea relief," lead case report author Dr. Alexandra Saunders, of Dalhousie University's Internal Medicine Program in New Brunswick, Canada said in a statement. "At the same time, like all other medications, it does carry risk and side effects."
The toxicity of marijuana can be viewed as a consequence of one or more the following: 1) inhalation of combustion products of marijuana; 2) direct CV effects of THC; and 3) indirect effects of THC related to acute anxiety, hallucination, and/or psychosis. Individuals who are THC-naïve and are not used to taking mind-altering drugs can become highly distressed by impaired cognition and feelings of loss of control produced by THC. Extreme emotional responses in the context of THC psychiatric toxicity are associated with surges of catecholamines, which can have adverse acute CV effects. Important considerations with respect to cannabis toxicity are the pattern of use, dose, route of administration, and degree of tolerance.
The authors called for more research into how different formulations of marijuana may affect the cardiovascular system, particularly among the aging population.
The outcome  of this case is important with new marijuana legalization—hopefully with marijuana use no longer criminalized, more research into the cardiovascular side effects will emerge.
For further reference log on to :
DOI: https://doi.org/10.1016/j.cjca.2018.11.033