Man cleans his ears with cotton swab, develops deadly brain infection 5 years later: BMJ Case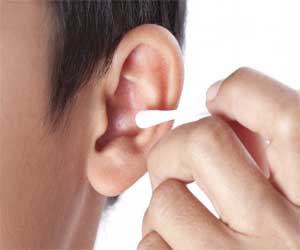 UK: A strange case report published in the British Medical Journal, reports the case of a healthy 31-year-old man who developed a brain infection five years after a cotton swab was stuck in his ear. This case has highlighted why the swabs should never be inserted into the ear canal to remove the yellow substance.
According to the reports, he had been complaining of excruciating pain for the past five years before he experienced a seizure, He also experienced aches in his left ear, discharge from his ear, a defect in his hearing abilities and vomiting. Upon brain imaging, health professionals discovered a retained cotton bud in the man's left external auditory canal and osseocartilaginous junction – where the cartilage and bony part of the external ear canal meet.
The man developed a severe bacterial infection that started in his ear canal, progressed into the bone at the base of his skull and then moved upward, into the lining of his brain, the meninges, said lead author Dr. Alexander Charlton, a member of the team of ear, nose and throat specialists involved in the patient's treatment at University Hospital Coventry in England.
The man was diagnosed with necrotising otitis externa (NOE), an infection originating in the soft tissues of the external auditory canal spreading to the surrounding bone. It is usually caused by Pseudomonas aeruginosa and has historically occurred in elderly patients with diabetes or immunodeficiency. EAC foreign body is a risk factor for otitis externa but has not been described in NOE.
At 10 weeks, the patient remained well, with no neurological deficit and no residual ear symptoms, and CT demonstrated complete resolution of the intracranial abscesses.
Charlton and the doctors who attended to the patient advised others to avoid using cotton swabs when cleaning ears. Other than cleaning the external parts of the ear, the motion in extracting dirt may cause infections that lead to hearing loss or damage the eardrums when done aggressively. Prolonged vertigo, facial paralysis, and total deafness are also some of the negative effects of improper use of cotton swabs in cleaning the ears.
While it is possible for the wax to build up over time and cause symptoms including tinnitus, mild deafness and earache, it can be easily treated. Doctors may use an ear syringe to prompt wax to float out of the ear, while forceps or suction devices can be used in some cases.
For further reference log on to
http://dx.doi.org/10.1136/bcr-2018-227971