................................ Advertisement ................................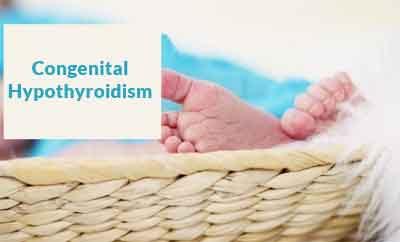 As (CH) is becoming a major health concern, experts recommended state governments in the country to make CH screening for newborn mandatory in government hospitals.
CH which severely cripples the growth of children, mainly affecting the brain, affects one in 2640 newborns in India.
Speaking to reporters, Dr Mala Dharmalingam, Professor and HoD of Endocrinology Department of MS Ramaiah Medical College said Thyroid hormone played an important role in development of the brain and other functions of the body like metabolism, growth and development and deficiency of this causes CH. All newborns should definitely be screened for CH at birth. If not screened, diagnosed and treated in appropriate time, it can lead to mental retardation.
................................ Advertisement ................................
Once the baby is diagnosed with CH, thyroid hormone replacement is started. The level of awareness remains low in general, we have seen a considerable increase in number of babies being screened since most gynecologists are now recommending screening at birth.
................................ Advertisement ................................
The test was simple and cheap and costs just Rs 100. All state government's should make it mandatory that newborns are subjected to CH test at government hospitals, she said.
Most newborns with CH appear normal at birth, even if there is complete lack of development of the thyroid gland. This was because a small amount of thyroid hormone (T4) from the mother is transferred to the baby during pregnancy. Around 10 per cent of infants with CH have other associated abnormalities like cardiac, nervous system and eye abnormalities.
Dr Anjana Hulse, consultant pediatric endocrinologist at Apollo Hospitals said most cases of CH children do not have evident symptoms and they appear to be physically normal making it difficult to detect.
"There is a need to have a legislation which mandates universal screening programmes. No baby should be left to suffer the circumstances because he/she was undiagnosed," she said.
Highlighting precautionary measures expecting mothers should take, Dr Nishita Rao, specialist in Obstetrics and Gynaecology, Lakshmi Maternity and surgical centre, said in order to keep the newborn safe from any complications, screening is very important.
Early detection and supplementation of thyroid hormone is easy, inexpensive and effective, she added.
Dr Praveen Ramachandra, Director, Diaplus Clinic said of all endocrine disorders that a child can be born with, CH is not only one of the most common, but also the most detrimental if not detected in time.
Studied at Indraprastha College for Women (Delhi University), completed in 2014. Currently working with Medical Dialogues, a online Medical news paper dedicated for healthcare Professionals.
................................ Advertisement ................................