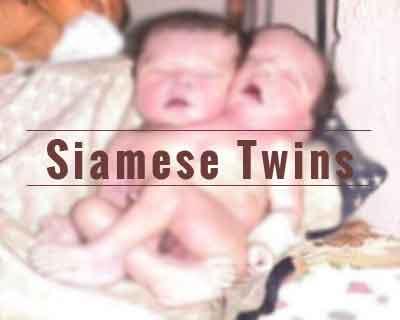 Aurangabad: In a rare case, a woman Tasleen Masuldar had given birth to 'Siamese twins' at the Government Medical College and Hospital in Latur district of Maharashtra.
The doctor Bhaurao Yadav, who performed a Cesarean reported to PTI, "The two children have two hands, two legs, separate heads each but they posses a common liver and heart."
According to the  Doctor, Conjoined twins are an extremely rare phenomenon — one in ten lakh and more than half are still- born.  The twins shared a common heart, which was unable to pump blood into both the bodies
After the birth of infants, they were immediately rushed to the civic-run Sion Hospital for advanced paediatric surgery. However, they died on their way.
Explaining the case of Conjoined babies, Dr Paras Kothari told Hindu, "The case was referred to us as we have operated on babies with a similar condition in the past," said Dr Paras Kothari, head of pediatric surgery, Sion Hospital.
"If the twins had made it to the hospital, we may have been able to save at least one of them. Saving both of them would have been impossible," as this the most rare birth case where the twins shared a common heart, which was unable to pump blood into both the bodies."
Dr Shiv prasad Mundada, head of Paediatrics at GMCH, talking about the mother said, "She lives in a remote district, Osmanabad, and approached us only  when she went into labour pain. It was too late to shift her to a hospital with good neonatal care facilities."
He further added, "the parents would have had the option terminating the pregnancy if the mother had taken an ultrasound test before completing 20 weeks. The mother had not undergone a sonography during her early pregnancy as she could not afford the tests."
The following two tabs change content below.
savita thakur
Studied at Indraprastha College for Women (Delhi University), completed in 2014. Currently working with Medical Dialogues, a online Medical news paper dedicated for healthcare Professionals.
Latest posts by savita thakur (see all)