CALCIUM- SO TIGHT- ​The case of a Stuck Balloon​- Dr​ ​​​Madhu Sreedharan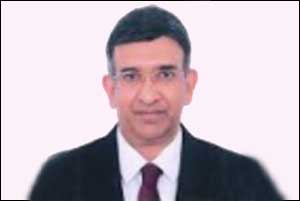 Coronary Angioplasty is one of the most common medical procedures done across the world and the numbers are ever increasing. Calcification of the vessels is one of the major obstacles for a good result following Percutaneous Coronary Interventions (PCI). Proper lesion preparation is a must for all lesions and particularly for calcific lesions. If not prepared well, it would result in an underdeployed / unexpanded stent which would lead to Stent Thrombosis / Restenosis.
Lesion preparation is done in most cases with high pressure balloon dilatation with Non-compliant balloons / Cutting Balloons / Angiosculpt. But if the calcium is extensive or occupying more than 270 degree arc on IVUS, then lesion preparation with Rotablator is probably a must before stent deployment.
In vessels with extensive calcification and tortuosity, crossing the lesion directly with a Rota Wire is often a Challenge. In such cases, normally the lesion is wired with a hydrophilic wire and subsequently changed to the rota wire over a micro-catheter and once the rota wire is in place in the distal vessel, one proceeds with rotablation.
In this case, there was extensive calcification of the entire RCA with a 90% stenosis with tortuosity within the calcium in its mid segment. It was wired with extreme difficulty with a Fielder XTA wire but the Finecross catheter could not be taken beyond the lesion. Hence it was planned to dilate the tightest part with a 1.25 x 6 mm Sprinter Legend balloon to get the micro-catheter down. However even the smallest balloon could not cross the lesion despite an AL guide with Guideliner support. If you can't get the rota wire across the lesion - you cant do rotablation!
As a last ditch effort, the Finecross catheter was wedged deep into the calcific lesion - as much as it would go - and the Fielder XTA wire was removed. Through the fine-cross, it was attempted to cross the lesion with the Rota wire and fortunately the Rota wire could be taken down to distal RCA. Subsequently the lesion was debulked with a 1.5mm Rota Burr followed by stenting with 2 Overlapping Everolimus Eluting stents with good result.
This maneuver - wedging the micro-catheter deep into the calcific lesion, removing the hydrophilic wire and getting the Rota wire down the path taken by the hydrophilic wire into the distal vessel - is a useful strategy which can be used as a last resort in extremely calcific lesions where one cannot take the Rota wire down despite using the regular techniques.
Dr Madhu Sreedharan is a senior interventional cardiologist and Director at NIMS Heart Foundation, Trivandrum. . He is speaking on the topic Calcium - So Tight - The case of a Stuck Balloon- at India Live 2018