Lung Ultrasound better than X-ray chest for detecting Pulmonary edema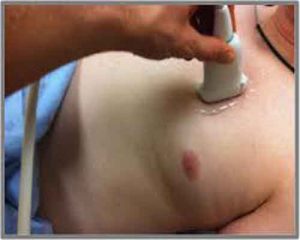 Lung ultrasonography, LUS is more preferable than Chest X-Ray for detecting acute decompensated Heart Failure as it offers higher accuracy in comparison to the later, says a meta-analysis study and systematic review published in JAMA.
Acute decompensated heart failure (ADHF) is the most common and potentially dangerous cause of dyspnea, manifested by shortness of breath. The insensitivity of guideline-recommended tools for diagnosing ADHF, such as chest radiography (CXR), physical examination, and brain-type natriuretic peptide (BNP) is the biggest challenge before the healthcare providers in managing the disorder. The diagnostic workup for ADHF as well as the lack of sufficiently sensitive diagnostic tools makes the process lengthy, resulting in a delay in treatment.
Point-of-care lung ultrasonography (LUS), which can be performed and interpreted at the bedside by the clinicians while treating the patients is emerging as a practical diagnostic tool for many lungs pathologies. Growing evidence suggests that the performance of LUS is comparatively greater than CXR in terms of accuracy for the diagnosis of cardiogenic pulmonary edema in patients presenting to any clinical setting with dyspnea. But no Meta-analysis was reported directly comparing the 2 tools.
A meta-analysis study conducted by Anna M. Maw et al confirmed that LUS is more sensitive than CXR in detecting pulmonary edema in ADHF. The meta-analysis was performed using A comprehensive search of MEDLINE, Embase, and Cochrane Library databases and the gray literature was performed in May 2018.
The literature search yielded 1377 nonduplicate titles that were screened, of which 43 articles underwent full-text review. Six studies met the inclusion criteria, representing a total of 1827 patients. Pooled estimates for LUS were 0.88 for sensitivity and 0.90 for specificity. Pooled estimates for CXR were 0.73 for sensitivity and 0.90 for specificity. The relative sensitivity ratio of LUS, compared with CXR, was 1.2, but no difference was found in specificity between tests.
By looking at the findings of the study the researchers concluded that LUS should be considered as an adjunct imaging modality in the evaluation of patients with dyspnea at risk of ADHF as it is more sensitive than CXR in detecting pulmonary edema in ADHF which will reduce the diagnosis time aiding to early treatment.