LT4 and LT3 combo effectively improves QOL in a subset of hypothyroid patients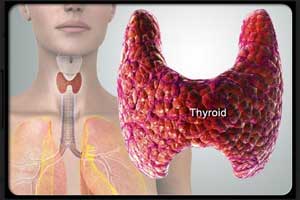 The American Association of Clinical Endocrinologists, the American Thyroid Association (ATA), and The Endocrine Society recommend levothyroxine (LT4) monotherapy as the treatment of choice for hypothyroidism. But some patients even after years of monotherapy continue to experience impaired quality of life.
But in an observational study conducted for 6 years and which has appeared in Southern Medical Journal, researchers have found an effective role of combination therapy of LT4 and synthetic liothyronine (LT3) in improving quality of life in a subset of a hypothyroid population without adverse effects and cardiac mortality.
Hypothyroidism results in decreased mood and neurocognition, weight gain, fatigue, and many other undesirable symptoms. Combination LT4 and synthetic liothyronine (LT3) therapy or the use of desiccated thyroid extract (DTE), has not been suggested for this indication based on short-duration studies with no significant benefits in the past.
The researchers conducted an observational retrospective study examining patients prescribed thyroid replacements with serum triiodothyronine (FT3), LT4 with LT3 (synthetic therapy) or DTE (natural therapy), compared with LT4 alone in the United States from 2010 to 2016. Thyroid-stimulating hormone (TSH), serum thyroxine (FT4), and FT3 levels were documented for each patient in addition to any admissions of myxedema coma, thyrotoxicosis, or cardiovascular complications, such as arrhythmias, atrial fibrillation, and mortality. At the conclusion of the study, a cross-sectional interview assessed the quality of life for each combination therapy through the Medical Outcomes Study Short Form-20 questionnaire.
In the research, compared with patients taking only LT4, 89.47% using synthetic therapy had therapeutic TSH (P < 0.05). Similarly, 96.49% using natural therapy had therapeutic TSH (P < 0.05). Less than 5% of patients had supratherapeutic FT3. n all no adverse effects were reported and none of the patients who had abnormally low TSH or elevated FT3 or FT4 levels had hospitalizations for arrhythmias or thyrotoxicosis.
On the Medical Outcomes Study Short Form-20 questionnaire, >92% answered feeling "excellent, very good, or good" when questioned about their health while undergoing thyroid replacement compared with levothyroxine alone.
The researchers concluded that for a subset of patients who feel suboptimal on LT4 monotherapy, synthetic therapy is beneficial and safe in controlling hypothyroid symptoms and improving quality of life. Combination therapy of LT4 and LT3 has remained an experimental treatment that can be used at the physician's discretion. This is the only retrospective study reported to use long-term (mean 27 months) thyroid replacements with combination therapy and the researchers did not identify additional risks of atrial fibrillation, cardiovascular disease, or mortality in patients of all ages with hypothyroidism.
For further reference follow the link:
10.14423/SMJ.0000000000000823
Source : With inputs from SMJ