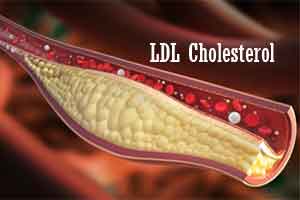 In a new study Researchers have found that lower the LDL level, lower is the risk to the heart. Therefore there is no need to be scared of lowering LDL-C even below the prescribed limit.
The further lowering of LDL (low-density lipoprotein) in the patients with atherosclerotic cardiovascular disease having low LDL levels reduces their cardiovascular risk, according to a meta-analysis in the journal JAMA Cardiology.
Marc S. Sabatine, Division of Cardiovascular Medicine, Brigham and Women's Hospital, Harvard Medical School, Boston, Massachusetts, and colleagues conducted the study to evaluate efficacy and safety of further lowering LDL-C levels in patient populations presenting with median LDL-C levels of 1.8 mmol/L (70 mg/dL) or less.
"A series of randomized clinical trials of statin therapy, first of statin vs no statin and then intensive vs less intensive statin therapy, demonstrated successive risk reduction, with experimental arms that achieved progressively lower levels of LDL-C" write the authors.
"We are now in a new era with nonstatin drugs that further lower low-density lipoprotein cholesterol levels and further reduce cardiovascular risk when added to statins. Clinical trials with these drugs afford the opportunity to quantify the clinical benefit of LDL-C lowering and to examine whether it remains consistent even in individuals starting with and achieving lower levels than were examined in the CTTC meta-analysis and lower than current guideline targets. Likewise, they offer the opportunity to explore any signals of harm in patients with LDL-C lowering to such levels."
For the study, the researchers analyzed results of three trials that evaluated adding nonstatins like evolocumab and ezetimibe to statins in patients with a median starting LDL level of 1.8 mmol/L (70 mg/dL) or less.
Key Findings:
In the treatment group, the risk for major vascular events — coronary heart death, myocardial infarction, ischemic stroke, or coronary revascularization — was 21% lower for every reduction of 1 mmol/L (39 mg/dL) in LDL.
Results were similar in a separate analysis that looked only at statin use.
There were no serious adverse events associated with treatment.
Also Read: Want to lower LDL Cholesterol further, add Evolocumab & PCSK9 Inhibitors

"There is a consistent relative risk reduction in major vascular events per change in LDL-C in patient populations starting as low as a median of 1.6 mmol/L (63 mg/dL) and achieving levels as low as a median of 0.5 mmol/L (21 mg/dL), with no observed offsetting adverse effects. These data suggest further lowering of LDL-C beyond the lowest current targets would further reduce cardiovascular risk," concluded the authors.
For more information follow the link: 10.1001/jamacardio.2018.2258