................................ Advertisement ................................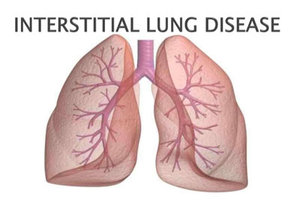 Lower than normal blood levels of vitamin D is linked to increased risk of early signs of interstitial lung disease (ILD), according to Johns Hopkins researchers. The researchers shared the results after reviewing medical information gathered on more than 6,000 adults over a period of ten years on average 62 years old with the rare disease that leads to disabling and irreversible lung damage characterized by lung scarring and inflammation. The findings of the study were published in the Journal of Nutrition.
Interstitial lung disease is mostly caused by environmental toxins such as asbestos or coal dust, but it can be caused by autoimmune disorders, infections, medication side effects or, sometimes, from unknown causes. The fatal disease has a survival rate of not more than 5 years. According to the 2013 Global Burden of Disease study, about 595,000 people worldwide develop interstitial lung disease each year, and about 491,000 die each year from it.
In a series of studies, the researchers learned about new, and potentially treatable, factors related to early signs of the disease seen by CT scans,  imaging abnormalities that may be present long before symptoms develop,which may help guide future preventive strategies.
................................ Advertisement ................................
Michos et al conducted a study to find the association between lower level of Vitamin D and interstitial lung disease. Michos and her associates used data from the Multi-Ethnic Study of Atherosclerosis (MESA) and recruited 6,814 people with median age 62  from 2000 to 2002.
................................ Advertisement ................................
Initially, blood samples for each participant were collected and measured for vitamin D levels. About 30% of participants who had vitamin D levels less than 20 nanograms per milliliter were considered vitamin D deficient (2,051 people). Those with vitamin D levels of 20-30 nanograms per milliliter were considered to have "intermediate," although not optimal, levels of the nutrient, while those with 30 nanograms per milliliter or more were considered to have met recommended levels. This was followed by heart CT scans for incidental and partial views of the lungs.
The researchers found that the vitamin D-deficient participants had a larger volume, on average (about 2.7 centimeters cubed), of bright spots in the lung suggestive of damaged lung tissue, compared with those with adequate vitamin D levels.
The researchers after analyzing data from the full lung scans also suggested that those with deficient or intermediate vitamin D levels were also 50 to 60 percent more likely to have abnormalities on their full lung scans suggestive of early signs of interstitial lung disease, compared with those with optimal vitamin D levels.
"Our study suggests that adequate levels of vitamin D may be important for lung health. We might now consider adding vitamin D deficiency to the list of factors involved in disease processes, along with the known ILD risk factors such as environmental toxins and smoking," says Michos. "However, more research is needed to determine whether optimizing blood vitamin D levels can prevent or slow progression of this lung disease."
"We knew that the activated vitamin D hormone has anti-inflammatory properties and helps regulate the immune system, which goes awry in ILD," says Erin Michos, associate professor of medicine at the Johns Hopkins University School of Medicine. He added, "There was also evidence in the literature that vitamin D plays a role in obstructive lung diseases such as asthma and COPD, and we now found that the association exists with this scarring form of lung disease too."
For more reference log on to https://doi.org/10.1093/jn/nxy066
Vinay Singh joined Medical Dialogue as Desk Editor in 2018. He covers the medical speciality news in different medical categories including Medical guidelines, updates from Medical Journals and Case Reports. He completed his graduation in Biotechnology from AAIDU and did his MBA from IILM Gurgaon. He can be contacted at editorial@medicaldialogues.in . Contact no. 011-43720751