Low-field MRI upto 0.2 tesla safe for patients with implanted devices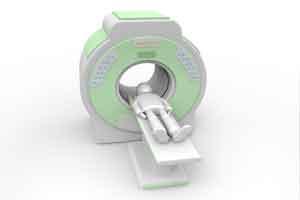 Low-field MRI up to 0.2 tesla safe for patients with implanted devices, according to an Austrian study. Although the strong magnetic field is not harmful in itself, implanted medical devices that contain metal may malfunction or cause problems during an MRI exam.The study has appeared in the European Journal of Radiology.
It is therefore a pertinent question for the clinicians to reduce MRI magnet strength to which level to ensure the safety of patients with implanted cardiac rhythm management (CRM) devices and also maintain diagnostic-quality images simultaneously.Thanks to medical advancements and an aging population, more patients than ever have some sort of implant. And while metal in an implant would prevent you from getting an MRI, it's not always the case.
Magnetic resonance imaging (MRI) of the body uses a powerful magnetic field, radio waves and a computer to produce detailed pictures of the inside of your body. It may be used to help diagnose or monitor treatment for a variety of conditions within the chest, abdomen and pelvis and may be used to safely monitor baby during pregnancy but patients with implanted cardiac rhythm management (CRM) devices pose a serious problem.
At that magnetic field strength up to 0.2 teslas, researchers found that CRM devices -- defined for this study as pacemakers and implantable cardioverter defibrillators (ICDs) -- functioned properly and resulted in no cases of cardiac arrhythmia or other adverse physical effects among the more than 400 patients in the study.
The researchers looked at four years of routine 0.2-tesla MRI scans (Magnetom Concerto, Siemens Healthineers) on 338 consecutive patients (mean age, 76.1 ± 9.2 years; range, 19-98 years). All the subjects had an implanted CRM device for an average of 4.1 (± 3.2) years. More than one MRI exam was performed in 41 patients (12%), with a maximum of six scans for one patient.
This analysis included 62 pacemaker-dependent patients (18.3%), 52 patients with 1.5-Tesla-MR conditional pacemakers (15.4%) and 13 patients with abandoned leads (3.9%).MR images covered a total of 446 different regions of interest, with the most common scans performed on the lumbar spine (206 exams, 46.2%), cerebrum (69, 15.5%), knee (56, 12.6%), and cervical spine (42, 9.4%).
Mean scan time at 0.2 tesla was 34 (± 12) minutes (range, 22-49 minutes), with a specific absorption rate range of 20 to 40 watts/kg. The same electrophysiologist assessed the results of the low-field scans and performance of the CRM devices immediately before and after the scans.
The researchers foound that except for one examination, which was interrupted because of recurrent severe nausea, all MRI scans could be analyzed efficiently. No induction of arrhythmia or inhibition of pacemaker function occurred. Compared to the device interrogation before MRI, there were no significant changes in battery voltage, pacing capture threshold, sensing of intrinsic ECG, lead impedance, as well as shock impedance in ICD devices after completed examination.
The authors concluded that low-field MRI examinations (0.2 Tesla) were efficient and safe regarding clinical and technical complications in patients with devices for cardiac rhythm management, even in case of pacemaker-dependency or the presence of abandoned leads.
"Despite the disadvantage of prolonged image acquisition times and the limitation to simple routine MRI scans only (i.e., joints and cranium), this [0.2-tesla MRI] technique reveals some benefits for the clinician," the researchers added. "Besides the comparatively lower overall costs for purchasing and technical maintenance, the open design of low-field MRI scanners enables not only an easier access to the patient for interventional studies but also examinations in special conditions, such as claustrophobic, obese, and pediatric patients."