Low Dose Thiazides best first choice for hypertension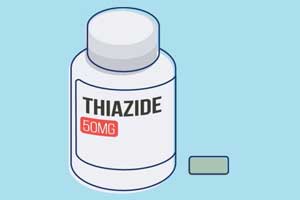 Sustained moderate to severe elevations in resting blood pressure leads to a critically important clinical question: What class of drug to use first-line? Wright JM, Musini VM, Gill R and associates from Cochrane Hypertension Group conducted a review to determine which drug class was the best first-line choice in treating adult patients with raised blood pressure.
The researchers searched the available medical literature to find all the trials that compared the drugs to placebo or no treatment to assess this question. The data included in this review are up to date as of November 2017.In the original review published in 2009, they found 24 studies that randomly assigned 58,040 adult people (mean age 62 years) with high blood pressure, to four different drug classes or placebo. Duration of these studies ranged from three to five years. Drug classes studied included thiazide diuretics, beta-blockers, ACE inhibitors, and calcium channel blockers.
The investigators found that most of the evidence demonstrated that first-line low-dose thiazides reduced mortality, stroke, and heart attack. No other drug class improved health outcomes better than low-dose thiazides. Beta-blockers and high-dose thiazides were inferior.
The authors concluded that High-quality evidence supported that low-dose thiazides should be used first for most patients with elevated blood pressure. Fortunately, thiazides are also very inexpensive.First-line low-dose thiazides reduced all morbidity and mortality outcomes in adult patients with moderate to severe primary hypertension. First-line ACE inhibitors and calcium channel blockers may be similarly effective, but the evidence was of lower quality. First-line high-dose thiazides and first-line beta-blockers were inferior to first-line low-dose thiazides.
For further reference log on to : DOI: 10.1002/14651858.CD001841.pub3