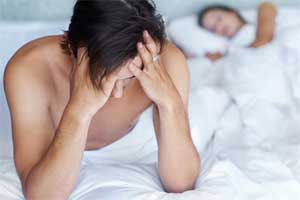 Researchers in stage III clinical trial have found that Low-dose clomipramine is an effective and safe treatment of Premature Ejaculation.
The use of on-demand clomipramine 15 mg was found safe and effective for treatment of premature ejaculation(PE), according to the results of the phase III trial recently published in the Journal of Urology.
Premature ejaculation occurs when a man experiences orgasm and expels semen soon after sexual activity and with minimal penile stimulation. Premature ejaculation is a common sexual complaint. Estimates vary, but as many as 1 out of 3 men say they experience this problem at some time. The main symptom of premature ejaculation is the inability to delay ejaculation for more than one minute after penetration.
Jin Bong Choi and his associates conducted a study to assess the efficacy of on-demand clomipramine 15 mg administered before sexual intercourse for the treatment of premature ejaculation (PE).
The multicentered, randomized, double-blind, placebo-controlled, fixed-dose clinical phase III study included a total of 159 patients who were randomly assigned into two groups. The first group received placebo (n=53) and the second group received clomipramine 15 mg (n=106) for 12 weeks. All patients were evaluated at the beginning of the study and every 4 weeks. Patients were instructed to take a tablet approximately 2-6 hours before sexual intercourse. Efficacy was assessed using Intravaginal Ejaculation Latency Time (IELT) and Premature Ejaculation Diagnostic Tool (PEDT) scores.
Read Also: Sleep Apnea Treatment Tied to Improved Sex Life
Key study findings:
Intravaginal Ejaculation Latency Time (IELT) of the clomipramine 15 mg group was significantly increased 12 weeks after administration compared with the placebo group.
Fold change of IELT in the Per Protocol (PP) population was also significantly different between the clomipramine 15 mg group and the placebo group.
There was a significant difference in the Premature Ejaculation Diagnostic Tool (PEDT) scores between the two groups.
The most commonly reported adverse events were nausea (15.7%) and dizziness (4.9%) and were mild to moderate in severity.
The study concluded that low-dose clomipramine is a safe and effective treatment for PE.
For reference log on to https://doi.org/10.1016/j.juro.2018.07.089