For managing hypoglycemia -Glucagon autoinjector scores over glucagon emergency kit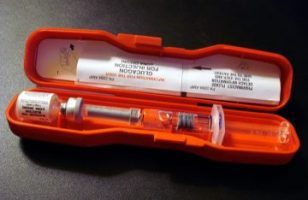 For managing Low Blood Sugar -Glucagon autoinjector scores over glucagon emergency kit, finds new study.
A glucagon autoinjector is efficient and facilitates a simple administration of glucagon during stimulated Low blood sugar or hypoglycemic episodes in diabetes patients, compared with glucagon emergency kit (GEK), according to a recently published study in the journal Diabetes Technology & Therapeutics.
Hypoglycemic episodes or episodes of low blood sugar are common among people with diabetes on insulin regime. During a hypoglycemia emergency, a person should be administered a full dose of glucagon in a ready to use a format that is reliable and enables complete dose delivery. The same requirement is not met by the currently used glucagon emergency kits that require a manual reconstitution.
According to the authors, the new glucagon autoinjector (GAI) (Gvoke HypoPen; Xeris Pharmaceuticals) can be correctly, safely, and effectively used by the intended user, which support the continued development of the GAI as an alternative to GEKs.
Virginia Valentine, a diabetes specialist at the Clinica La Esperanza in Albuquerque, New Mexico, and colleagues report a human factors validation program evaluating the glucagon autoinjector versus marketed glucagon emergency kits for the management of severe hypoglycemia.
"The optimal scenario during a diabetes emergency is the delivery of glucagon in a ready-to-use format that is user-centric, intuitive, reliable and enables complete dose delivery," write the authors, "Thus, a need exists for an improved device for hypoglycemic rescue that provides ease-of-use for all potential users as well as reliable delivery of a complete dose of glucagon."
For the evaluation, the researchers recruited 16 adults or two hypoglycemia rescue simulation exercises in which participants used a glycemic emergency kit during one exercise and the glucagon autoinjector during the other. The total cohort was made up of participants who had used a glycemic emergency kit before (n = 8; mean age, 35.5 years; four women) and those who had not (n = 8; mean age, 37.4 years; five women).
Each simulated situation required the participants to use the injector or kit with a mannequin, with the researchers observing how many participants successfully completed each procedure and how long each took to complete.
Also Read: Low blood sugar during discharge increases death and hospital readmission
According to the researchers:


A successful injection occurred more frequently with the autoinjector compared with the kit (88% vs. 31%).


The autoinjector also took less time to be used, on average, compared with the kit (47.9 seconds vs. 109 seconds).


The autoinjector had a lower step error rate compared with the kit (3.6% vs. 20.1%)


In a validation analysis using the autoinjector alone with 75 participants (aged 12-69 years) of varying degrees of familiarity and training with the device, glucagon was administered successfully by 98.7% of the cohort.


Also Read: Neuronostatin, new hope to treat too low blood sugar due to insulin therapy
"This usability advantage over existing GEKs will hopefully inspire more confidence in caregivers of patients with diabetes and translate to the more widespread use of glucagon in treating severe hypoglycemia in the home or ambulatory setting," wrote the authors. "The glucagon autoinjector could not only help save lives but also limit emergency department visits and thus lower the burden of severe hypoglycemia on the health care system as a whole."
To read the complete study follow the link:
https://doi.org/10.1089/dia.2019.0148