Long-term ozone, wood smoke exposure tied to bad lung health in non smokers also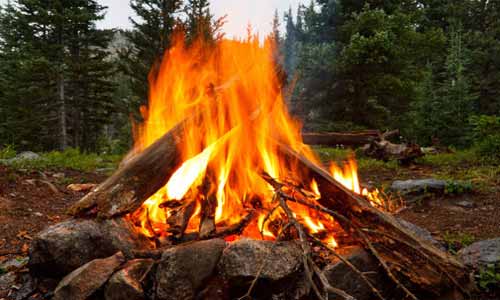 Delhi: Exposure to high levels of wood smoke and ozone increases the risk of lung diseases in smokers and nonsmokers alike, two new studies led by Johns Hopkins researchers have revealed.
The first study, published in JAMA Internal Medicine, found that long-term ambient ozone exposure was associated with worse respiratory outcomes and increased emphysema and gas trapping, independent of smoking and workplace exposures, in smokers with or at risk for chronic obstructive pulmonary disease (COPD).
This multicenter cross-sectional study conducted from November 1, 2010, to July 31, 2018, involved 1874 participants. The data was obtained from the Air Pollution Study, an ancillary study of SPIROMICS (Subpopulations and Intermediate Outcome Measures in COPD Study). Included participants who had historical ozone exposure data were either current or former smokers (≥20 pack-years), were with or without COPD, and were aged 40 to 80 years at baseline. Healthy persons with a smoking history of 1 or more pack-years were excluded from the present analysis.
Key findings of the JAMA Study include:


In adjusted analysis, a 5-ppb (parts per billion) increase in ozone concentration was associated with a greater percentage of emphysema (β = 0.94) and percentage of air trapping (β = 1.60); worse scores for the mMRC Dyspnea Scale (β = 0.10), CAT (β = 0.65), and SGRQ (β = 1.47); lower FEV1% predicted value (β = −2.50); and higher odds of any exacerbation (odds ratio [OR], 1.37) and severe exacerbation (OR, 1.37).


No association was found between historical ozone exposure and chronic bronchitis, COPD, airway wall thickness, or 6-minute walk test result.


"What stood out was that the effect was apparent even among current heavy smokers," said researcher Dr. Nadia Hansel, director of the pulmonary and critical care division at Johns Hopkins University School of Medicine, in Baltimore. "This means that active smoking doesn't outweigh this effect of ozone."
Even those already at risk for COPD had an additional increased risk with ozone exposure, she added in a university news release.
"I think this adds to increasing evidence that there is probably no healthy level of ozone," Hansel said.
Read Also: Smog exposure may increase emphysema risk and respiratory diseases severity: JAMA
The second study, published in the American Journal of Respiratory and Critical Care Medicine, found that the use of wood as the main heating source was tied to an increased prevalence of lung disease among people who had never smoked.
The study involved 8,500 adults in the U.S. National Health and Nutrition Examination Surveys for 2007 to 2012.
Key findings of the study include:


The prevalence of COPD among those living in rural areas was 12%, which was double the prevalence of the disease in urban areas.


Delving into the difference, the scientists found that places, where a lot of coal or wood was used for primary heating, showed greater odds of people having COPD.


A 1% increase in the number of homes using wood for heat was tied with a 12% increase in the odds of COPD among people who had never smoked, the researchers reported.


According to researcher Dr. Sarath Raju, a pulmonary and critical care medicine fellow at Hopkins, "Wood smoke is a household source of pollution that is associated with high levels of particulate matter and toxic gases. We hope that this paper raises awareness of the growing epidemic of rural COPD."
Read Also: Air Pollution : a mass poisoning. . Each minute 2 people die due to air pollution
References:
"Association of Long-term Ambient Ozone Exposure With Respiratory Morbidity in Smokers," published in the journal JAMA Internal Medicine.
"The Burden of Rural COPD: Analyses from the National Health and Nutrition Examination Survey (NHANES)," published in American Journal of Respiratory and Critical Care Medicine.
Source : With inputs from JAMA and AJRCCM