Long-term exercise reduces fall, injury risk in elders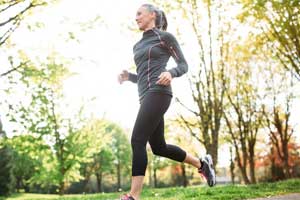 Long-term exercise is associated with a reduction in falls, injurious falls, and probably fractures in older adults, including people with cardiometabolic and neurological diseases, reports a meta-analysis published in JAMA Internal Medicine.
Philipe Barreto and his associates conducted a meta-analysis to systematically review and investigate the association of long-term exercise interventions (≥1 year) with the risk of falls, injurious falls, multiple falls, fractures, hospitalization, and mortality in older adults.
Read Also: Just 6 months of aerobic exercise reverses brain ageing by 9 years
The investigators extracted the data from PubMed, Cochrane Central Register of Controlled Trials SportDiscus, PsychInfo, and Ageline.
The study included meta-analysis of 40 randomized controlled trials in adults aged ≥60 years. Most trials had active comparator groups (attention controls to more intensive activities). The mean age of the study participants was 73.1 years; 66.3% were women. The mean intervention length was 17 months.
The investigators found that the most frequent intervention was multicomponent training with aerobic plus strength and balance of moderate intensity, 3 times per week, at 50 minutes/session. Exercise training was associated with lowered risk for falls and injurious falls and it tended to reduce the risk for fractures. Exercise training was not associated with reduced risk for hospitalizations or mortality. The optimal frequency of exercise for mortality and falls appears to be 2-3 times per week, according to meta-regression.
Read Also: Exercise as effective as drugs for lowering BP, finds BMJ study
"This is the first meta-analysis to examine the effect of long-term exercise on prevalent adverse events in older adults, "write the authors.
According to the authors, the benefits appeared to extend to patients with neurologic or cardiometabolic disorders and were not associated with an increased risk for mortality or hospitalization.
For more information log on to 10.1001/jamainternmed.2018.5389
Source : With inputs from JAMA Internal Medicine