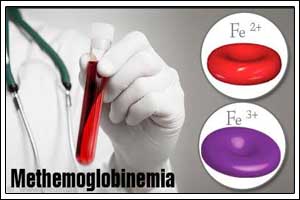 The US Food and Drug Administration issued a warning to consumers to stop using benzocaine-containing over-the-counter teething products in infants and children below 2 years of age as these products carry significant safety risks such as the possibility of methemoglobinemia.
In addition, the FDA has asked manufacturers of OTC benzocaine-containing oral drug products to make changes to the labeling with regard to use in adults and children over the age of which  includes
Adding a warning about methemoglobinemia
Adding contraindications directing consumers not to use the product for teething and not to use it in children <2 years old
Revising the directions to clearly state that the product should not be used in children <2 years old
The Drug Safety Communication has been monitoring the risk for methemoglobinemia and estimated that there have been more than 400 cases reported to the FDA or published in the literature since 1971.
Methemoglobinemia is a condition caused by elevated levels of methemoglobin in the blood in which the amount of oxygen carried through the bloodstream is greatly reduced. The symptoms of methemoglobinemia can include pale, gray, or blue colored skin, headache, light-headedness, shortness of breath, fatigue, and rapid heart rate. Benzocaine-induced methemoglobinemia can be fatal, particularly when it is not identified and treated promptly. Benzocaine-induced methemoglobinemia may occur after a single exposure and in persons who have previously been exposed to benzocaine without incident.
Benzocaine is an active ingredient in several types of OTC oral health care drug products, including oral anesthetic and analgesic drug products that are marketed for the temporary relief of pain due to minor irritation, soreness, or injury of the mouth and throat. OTC oral health care drug products containing benzocaine are marketed in a variety of dosage forms, including gels, sprays, ointments, solutions, and lozenges.
Healthcare professionals who use local anesthetics are being advised to minimize the risk of methemoglobinemia by monitoring patients for signs and symptoms, using co-oximetry when possible, and having resuscitation equipment and medications available, including methylene blue.
With regard to OTC products, clinicians should instruct patients looking to use benzocaine-containing products to apply only a small amount and not to use the product more than 4 times per day; signs and symptoms of methemoglobinemia may appear within minutes to 1–2 hours after use. Medications, foods, and water containing nitrites and nitrates may also induce methemoglobin formation that may be additive to that formed with benzocaine products.
"Because of the lack of efficacy for teething and the serious safety concerns we've seen with over-the-counter benzocaine oral health products, the FDA is taking steps to stop use of these products in young children and raise awareness of the risks associated with other uses of benzocaine oral health products,"said FDA Commissioner Scott Gottlieb MD.