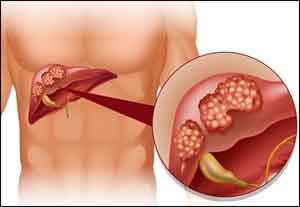 To compare aspects of alcohol-related and non-alcohol-related liver cancer, Charlotte Costentin, MD, of Hôpital Henri-Mondor in France, and her colleagues examined 894 patients with newly diagnosed liver cancer who were followed for 5 years; 582 patients (65 percent) had a history of chronic alcohol abuse and 312 (35 percent) did not. Investigators also recorded whether patients with alcohol-related liver cancer were abstinent or not at the time of cancer diagnosis.
A total of 601 patients had died by the time of the investigators' final analyses. Alcohol-related liver cancers were more likely to be diffuse and were detected in patients with worse liver function. Median overall survival was 9.7 versus 5.7 months in the non-alcohol-related and alcohol-related groups respectively. When investigators looked at each stage of cancer individually, however, survival was similar in patients with non-alcohol-related and alcohol-related cancer. The findings suggest that patients with alcohol-related liver cancer have a reduced overall survival mainly due to worse liver function and tumor characteristics at diagnosis.
The analysis also examined whether patients were participating in cirrhosis follow-up programs before their cancers were diagnosed. (Most people who develop liver cancer show signs of scarring, or cirrhosis, in the liver, and international guidelines recommend ultrasound every six months to detect early liver cancer in patients with cirrhosis.) Patients whose liver cancer was detected during a cirrhosis follow-up program had improved survival compared with patients whose cancer was diagnosed incidentally. This was especially pronounced in patients with a non-alcohol-related liver disease or those with the alcohol-related liver disease who are no longer drinking alcohol compared with non-abstinent patients. Also, non-abstinent alcoholic patients had the lowest survival in the study, even when restricting the analysis to patients involved in cirrhosis follow-up programs.
"To improve the prognosis of liver cancer in the alcoholic population, efforts should be made to implement effective screening programs for both cirrhosis and liver cancer, and to improve access to alcoholism treatment services," said Dr. Costentin. "A smaller tumor burden and a better liver function at diagnosis should translate into higher rates of patients with alcohol-related liver cancer amenable to curative treatment such as tumor resection or ablation and liver transplantation."
For more details click on the link: http://dx.doi.org/10.1002/31215