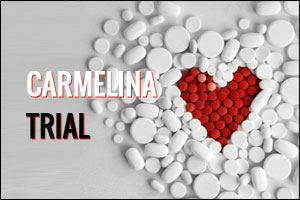 A secondary analysis of data from the CARMELINA trial confirms that the administration of linagliptin in type 2 diabetes (T2D) patients at high cardiovascular risk, does not increase their likelihood of heart failure-related outcomes.
Results of the study were published in the journal Circulation and simultaneously presented at the American Heart Association (AHA) Scientific Sessions 2018.
Medical Dialogues had earlier reported the findings from CARMELINA (CArdiovascular safety and Renal Microvascular outcomE with LINAgliptin) in patients with T2D at high vascular risk trial that Linagliptin has met the primary endpoint, demonstrating its cardiovascular (CV) safety similar to placebo. Now, these new findings confirm the safety of linagliptin for diabetic patients at high cardiovascular risk.
Darren K. McGuire, MD, a cardiologist from UT SouthWestern Medical Center, Dallas, Texas, and colleagues conducted secondary analyses of HF and related outcomes with the dipeptidyl peptidase-4 inhibitor linagliptin versus placebo in CARMELINA, a cardiovascular outcomes trial that enrolled participants with type 2 diabetes mellitus and atherosclerotic cardiovascular disease and/or kidney disease.
Also Read: Linagliptin safe for heart of patients with type 2 diabetes: CARMELINA Trial
Linagliptin, a dipeptidyl peptidase-4 (DPP-4) inhibitor, is a prescription medicine that is used along with diet and exercise to lower blood sugar in adults with type 2 diabetes (T2D). It is not recommended for people with type 1 diabetes or for people with diabetic ketoacidosis (increased ketones in the blood or urine).
CARMELINA included almost 7000 patients with type 2 diabetes and concomitant atherosclerotic cardiovascular disease and/or kidney disease randomized to once-daily oral linagliptin 5 mg or placebo, alongside standard care.
For the present secondary analysis of CARMELINA, McGuire and colleagues examined data on heart failure hospitalizations, cardiovascular outcomes, and deaths, which had been prospectively gathered and then centrally adjudicated from the 6979 patients with type 2 diabetes from 27 countries who were in the trial.

The linagliptin and placebo groups were well balanced in terms of their baseline characteristics, and both sets of patients had relatively well-controlled blood pressure, lipids, and glycemic indices.
Over a mean follow-up of 2.2 years, 435 patients had at least one heart failure hospitalization.
Key Findings:
Cox proportional analysis indicated that there was no significant difference in the incidence of heart failure hospitalization between patients treated with linagliptin and those given placebo, at 6.0% versus 6.5%, or a hazard ratio of 0.90 (P = .26).
There was no difference between the two treatment groups in terms of the composition endpoint of cardiovascular death or heart failure hospitalization, at a hazard ratio of 0.94 (P = .39).
Linagliptin was not associated with an increase in the risk of first or recurrent heart failure hospitalization versus placebo, at a hazard ratio of 0.94 (P = .63).
The findings demonstrate that linagliptin did not affect the risk for heart failure hospitalization or related heart failure outcomes, overall or across selected subgroups of interest." write the authors.
They add, "These data provide further support that linagliptin may be safely used, without concerns for increasing heart failure risk, in a high-risk population of individuals with [type 2 diabetes] with concomitant atherosclerotic cardiovascular disease and/or kidney disease."
For further reference follow the link: https://www.ahajournals.org/doi/10.1161/CIRCULATIONAHA.118.038352