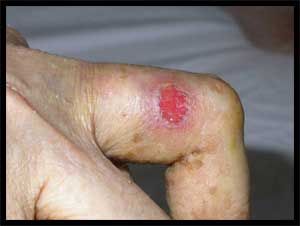 A new study published in the Journal of Dermatological Treatment reported that a novel light therapy emitted through LEDs appears safe and improves the conditions of finger ulcer in patients with systemic sclerosis (SSc).
The light therapy formulated by the researchers of the University of Manchester and Salford Royal NHS Trust combines infrared, red and ultraviolet light which was tested on finger ulcers caused by a condition called systemic sclerosis, where the immune system attacks the body's fingers and toes.
The light therapy was found to be a feasible and well-tolerated treatment for Digital Ulcers located on a variety of locations on the hands, including in patients with marked finger contractures.
Hughes and associates conducted a study to investigate the safety, feasibility, and tolerability of a novel low-level light therapy (LLLT). A secondary aim was to tentatively assess efficacy.
The new lamp developed by the team composed of 32 different bulbs which emit infrared, red or ultraviolet light.
Researchers tested its effects on eight SSc patients who had a total of 14 ulcers. Treatment with the lamp was performed in 15-minute sessions, twice a week for three weeks. The majority of patients also were receiving treatment with vasodilatory agents.
Read Also: Shock-wave therapy successfully treats finger ulcers in scleroderma patients
A total of 46 light treatments were successfully administered and no safety concerns were encountered during the course of the study. All the participants considered that the light treatment took 'just the right amount of time' and was 'feasible'.

The trio light combination uses several advantages and stimulates several processes;
The red and infrared light boost blood flow and with it the nutrients required for wound healing.
Infrared light, the same used in TV remote controls, increases the tissue's oxygenation, while red light enhances the body's antimicrobial defenses.
Red light also is reported to induce the deposition of collagen, the wounds' natural scaffolding.
Ultraviolet light has an anti-bacterial effect and reduces inflammation, which acts against healing.
"Our targeted novel LLLT was safe, feasible, and well tolerated by patients. Combining infrared, red, and ultraviolet light has the potential advantage of activating a wide range of beneficial photochemical effects. In addition, there was an early suggestion of treatment efficacy, with a significant improvement in DUs during the course of the study", write the authors.
For reference log on to https://doi.org/10.1080/09546634.2018.1484875