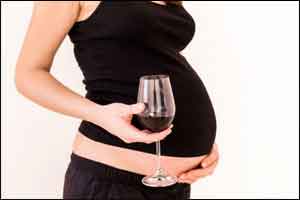 Doctors as a principle advise pregnant women to abstain from drinking. But  a latest  UK study has found that the evidence for potentially harmful effects of light or occasional drinking during pregnancy  is "surprisingly limited".
The researchers from the University of Bristol looked for evidence of any complication during pregnancy like miscarriage, premature birth and smaller babies after women resorting to light drinking. The longer term effects like  developmental delays, impaired intellect and behavioral problems were  also studied.
They examined evidence from 26 studies that looked into the impact of drinking 2 units of alcohol  which is equivalent to  a standard 175ml glass of wine, a double shot of spirits or a pint of low-strength beer twice a week compared with total abstinence.
Their analysis, published in BMJ Open, shows that drinking up to 4 units of alcohol a week during pregnancy is, on average, associated with an 8% higher risk of giving birth to a small baby compared with drinking no alcohol at all. They also found limited evidence that this level of alcohol consumption is linked with a higher risk of premature birth. The conclusion of the researchers is that the evidence of the effects of drinking <32g/week in pregnancy is sparse
."Despite the distinction between light drinking and abstinence being the point of most tension and confusion for health professionals and pregnant women, and contributing to inconsistent guidance and advice now and in the past, our extensive review shows that this specific question is not
being researched thoroughly enough, if at all," the authors write. "In addition, there has been no evidence regarding possible benefits of light alcohol consumption versus absence."
Experts remain uncertain exactly how much – if any – alcohol is completely safe in pregnancy. But following a recent review the UK's chief medical officers have said that it is safer not to drink while pregnant or trying to conceive.
Several experts have expressed their reaction to study and commented on the findings in statements published at science media centre.
Professor Russell Viner, officer for health promotion at the Royal College of Paediatrics and Child Health, comments: "There are lots of mixed messages when it comes to alcohol, but this research confirms that based on current evidence it is impossible to say what constitutes a 'safe' amount of alcohol a woman can drink if she's trying for a baby and for women who are pregnant.My advice to women is that it's best not to drink at all if you're trying for a baby or pregnant. Regularly drinking even small amounts could be harmful and should be avoided, in line with the precautionary approach."
There are divergent views but most of experts agree on the following :
The risk of harm to the baby is likely to be low if a woman has drunk only small amounts of alcohol before she knew she was pregnant or during pregnancy
Women who find out they are pregnant after already having drunk during early pregnancy, should avoid further drinking, but should be aware that it is unlikely in most cases that their baby has been affected
If patient is worried about how much she  has been drinking when pregnant, talk to your doctor or midwife
The following two tabs change content below.
Anjali Nimesh
Anjali Nimesh Joined Medical Dialogue as Reporter in 2016. she covers all the medical specialty news in different medical categories. She also covers the Medical guidelines, Medical Journals, rare medical surgeries as well as all the updates in medical filed. She is a graduate from Dr. Bhimrao Ambedkar University. She can be contacted at editorial@medicaldialogues.in Contact no. 011-43720751
Latest posts by Anjali Nimesh (see all)