Licorice tea may lead to critically high BP: CMAJ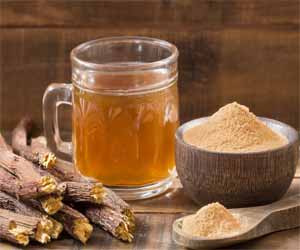 Excess of everything is bad, so, demonstrates a recent case in which a man developed high blood pressure (BP) after consuming an excess of a popular herbal tea known to have many health benefits -- licorice tea.
The case, published in the Canadian Medical Association Journal, details the case of an 84-year-old man presented to the emergency department with a hypertensive emergency. On investigation, it turned out that the man has been consuming 1 to 2 glasses of homemade licorice root extract called "erk sous" daily for the 2 weeks.
Licorice is the root of the plant Glycyrrhiza glabra and has been used for thousands of years for its therapeutic properties. It is traditionally prepared by combining licorice root and baking soda in a cloth and adding water to it drop by drop over several hours.
Licorice is well known to exacerbate high blood pressure in patients with hypertension. Less commonly, licorice has been shown to cause de novo hypertension in previously unaffected individuals. Several cases of licorice-induced hypertensive crises have been reported, with various presentations including heart failure with pulmonary edema, hypertensive encephalopathy, and stroke.
The man reported a 1-week history of persistently elevated measurements, taken at home, of systolic blood pressure (between 180 and 210 mm Hg), along with symptoms of headache, photophobia, chest pain, and fatigue. On presentation to the emergency department, his blood pressure was 196/66 mm Hg. He had signs of volume overload on physical examination, including pulmonary crackles on auscultation and pitting edema of the lower extremities up to the knees. Chest radiography was consistent with mild pulmonary edema.
With complete abstinence from licorice extract, while he was in the hospital, the patient's blood pressure gradually improved and was 140/80 mm Hg on discharge from the hospital 13 days after presentation. He was sent home on amlodipine, metoprolol, irbesartan, hydrochlorothiazide and a taper of furosemide, along with the remainder of his usual medications.
The patient was seen in clinic 3 weeks later; his blood pressure was 110/57 mm Hg and he felt well. He had not taken any licorice extract since his hospital admission. Metoprolol and amlodipine were stopped.
To read the complete case study follow the link: https://doi.org/10.1503/cmaj.180550