Let's Get Cooking: New Digital Hub for Diabetic diet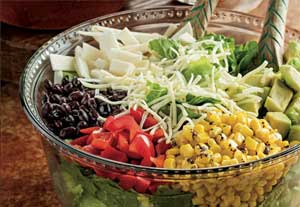 Diabetics have to be very conscious and sensitive regarding their diet and the greatest challenge they encounter is of daily meal planning. Diabetes people are always in dilemma planning for a healthy diet that suits their requirement. Moving a step ahead in this direction the American Diabetes Association (ADA) has launched Diabetes Food Hub™, a new digital cooking and recipe platform featuring hundreds of recipes to provide a solution to people living with diabetes to eat healthy and stay healthy. The collection of tasty recipes are approved by ADA's nutrition experts.
Read Also: Dairy products provide protection against diabetes
Diabetes Food Hub provides recipes with easy-to-read nutrition guidance, tips for healthy eating, and meal prep inspiration from ADA diabetes experts to help put healthy living within reach for all people. The food hub includes hundreds of recipes for breakfast, lunch, dinner, snacks, and even desserts that are appropriate for people with the disease.
Users can customize their search by cuisine types such as comfort food, Mediterranean, Southwest, and more, as well as filter by preferences such as low-carb, low-sodium, vegetarian, budget-friendly, or gluten-free. By creating a free profile, users can also enjoy a personalized experience, as the site learns likes and dislikes over time and offers suggestions based on past user preferences.
The diabetes food hub not only provides different recipes but also acts as your nutritionist. The platform contains powerful features designed specifically to address the needs of people living with them. Users can drag-and-drop recipes into a weekly Meal Planner, which automatically calculates nutrition information, and create an editable shopping list, organized by grocery store department to make your shopping trip easier.
Read Also: Higher intake of dietary manganese lowers diabetes risk, finds new study
Nutrition Facts are available for all recipes, including total carbohydrates, calories, fat, and protein. Values for sodium, potassium, and phosphorus are also available to help users track their intake and create a meal plan suitable for blood glucose management, kidney disease, heart disease, or other health conditions.
Diabetes Food Hub allows users to create personalized diabetes meals based on nutrition criteria they have developed with their diabetes care team.
Diabetes currently affects more than 62 million Indians, which is more than 7.1% of the adult population. The average age of onset is 42.5 years. Nearly 1 million Indians die due to the disease every year. According to the Indian Heart Association, India is projected to be home to 109 million individuals with diabetes by 2035. A study by the American Diabetes Association reports that India will see the greatest increase in people diagnosed with diabetes by 2030.
Source : With inputs from American Diabetes Association