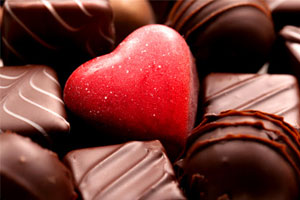 Good News for chocolate lovers- chocolate consumptions heart healthy.
We all love eating chocolates, and if a new study is to be believed, apart from being good in taste it is good for your heart as well. The study, published in the BMJ Journal Heart, suggests that weekly consumption of <100 g of chocolate may be associated with reduced risk of cardiovascular disease (CVD).
Studies investigating the impact of chocolate consumption on CVD have not reached any consistent conclusions. As such, a quantitative assessment of the dose-response association between chocolate consumption and incident CVD has not been reported.
Yongcheng Ren, The Affiliated Luohu Hospital, Shenzhen University Health Science Center, Shenzhen, China, and colleagues conducted a meta-analysis and systematic review of studies that assessed the CVD risk with chocolate consumption.
Cardiovascular diseases (CVD) are the major cause of mortality globally, as well as in India, according to WHO. It is caused by the disorders of the blood vessels and heart and includes hypertension, peripheral artery disease, coronary heart disease, congenital heart disease, heart failure, rheumatic heart disease and stroke.
Also Read: Regular chocolate consumption linked to lower risk of Atrial fibrillation
For the study, the investigators searched PubMed and EMBASE databases for articles published up to 6 June 2018. Restricted cubic splines were used to model the dose-response association.
Fourteen publications (23 studies including 405 304 participants and 35 093 cases of CVD) were included in the meta-analysis.

Key Findings:
Relative risk (RR) per 20 g/week increase in chocolate consumption was 0.982 for CVD (heart failure: 0.995 ; total stroke: 0.956 ; cerebral infarction: 0.952; haemorrhagic stroke: 0.931 ; myocardial infarction: 0.981 ; coronary heart disease: 0.986 .
A non-linear dose-response indicated that the most appropriate dose of chocolate consumption for reducing the risk of CVD was 45 g/week.
"Chocolate consumption may be associated with reduced risk of CVD at <100 g/week consumption. Higher levels may negate the health benefits and induce adverse effects associated with high sugar consumption," concluded the authors.
Flavonoids in cocoa have been shown to help lower blood pressure, improve blood flow to the brain and heart, prevent blood clots, and fight cell damage. They've also been shown to help thinking skills.
For further information log on to http://dx.doi.org/10.1136/heartjnl-2018-313131