Revivent TC System may improve LV function in heart failure after MI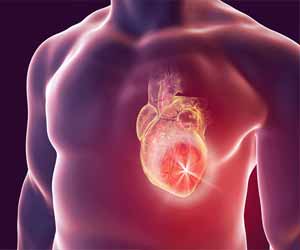 Delhi: Revivent TC System -- a less invasive alternative to surgical reconstruction -- reduced left ventricular (LV) volume, improved LV function in patients with heart failure (HF) caused by a heart attack, a recent study in the European Journal of Heart Failure has found.
Heart failure is an important global health problem due to associated high cost, morbidity and mortality. Ischemic heart disease is a major cause of HF. Current therapies do not directly address the scar tissue of the adversely remodeled ventricle after myocardial infarction (MI).
Myocardial infarction from occlusion of a coronary artery often results in areas of dyskinetic or akinetic myocardium, causing increased wall stress and subsequent left ventricular (LV) dilatation. The dilated and scarred area of the LV wall increases myocardial wall stress further, inducing ischemia. The degree of LV dilatation has a major impact on the severity of HF symptoms and mortality rates.
Surgical ventricular reconstruction (SVR) is an effective therapy in patients with chronic HF. However, the procedure is a highly invasive procedure that requires median sternotomy, cardiopulmonary bypass with cardioplegic myocardial arrest, and ventriculotomy. The BioVentrix Revivent TC System has a potential efficacy compared to conventional SVR. It aims to exclude non-functioning scarred myocardium, reshape ventricular geometry, and reduce the ventricular volume and is a less invasive procedure performed on beating heart and involves the use of titanium anchor pairs.
This prospective, multicentre, international single‐arm study by Patrick Klein, St Antonius Hospital, Nieuwegein, The Netherlands, and colleagues was designed to evaluate the functional effectiveness and safety of the Revivent TC System. It offers a less invasive option for LV volume reduction and reshaping of the remodelled left ventricle after MI.
The study considered a total of 89 patients who were considered eligible for the procedure. They were presented with symptomatic HF [New York Heart Association (NYHA) class ≥II], left ventricular dilatation and dysfunction caused by myocardial infarction, and akinetic and/or dyskinetic transmural scarred myocardium located in the anteroseptal, anterolateral, and/or apical regions. Out of 89 patients, 86 patients were successfully treated (97%).
Read Also: New drug in loop for treatment of heart attack and heart failure prevention
Key findings of the study include:


At 12 months, a significant improvement in LV ejection fraction (29 ± 8% vs. 34 ± 9%) and a reduction of LV volumes was observed (LV end‐systolic and end‐diastolic volume index both decreased: 74 ± 28 mL/m2 vs. 54 ± 23 mL/m2 and 106 ± 33 mL/m2 vs. 80 ± 26 mL/m2, respectively).


Four patients (4.5%) died in hospital and survival at 12 months was 90.6%.


At baseline, 59% of HF patients were in NYHA class III compared with 22% at 12‐month follow‐up.


Improvements in quality of life measures (Minnesota Living with Heart Failure Questionnaire 39 vs. 26 points) and 6‐min walking test distance (363 m vs. 416 m) were also significant.


Read Also: Blood Thinners in Heart Failure significantly reduce Heart attack Risk: Clinical trial
"These data indicate that the Revivent TC System can be used as an HF therapy that results in good clinical outcomes. This could be an additional personalized therapy for a specific type of patients with HF after MI with scar tissue in the anteroseptal or apical wall of the left ventricle," wrote the authors.
"The less invasive volume reduction and reshaping of the ventricle using the Revivent TC System has demonstrated its safety and good survival with reduced morbidity and improvement of clinical symptoms and exercise capacity in appropriately selected patients with severe HF," they concluded.
The study, "Less invasive ventricular reconstruction for ischaemic heart failure," is published in the European Journal of Heart Failure.
Source : European Journal of Heart Failure