Lentils significantly reduce blood glucose levels : Study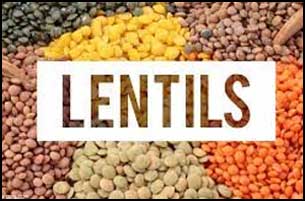 Substituting potatoes or rice with pulses in your diet can significantly lower blood glucose level, says University of Guelph study. Lentils can reduce blood glucose levels by more than 20% by slowing down digestion and the release of sugars into the bloodstream.
Prof. Alison Duncan and his associates conducted a study to determine the extent to which postprandial blood glucose response PBGR and relative glycemic response (RGR) is lowered when half of the available carbohydrate (AC) from rice or potato is replaced with cooked lentils.
The study involved 24 healthy adults who were fed with four dishes - white rice only, half white rice and half large green lentils, half white rice and half small green lentils, and half white rice and half split red lentils.
The glucose levels were measured in the participants' blood before they ate the dishes and two hours afterward. They repeated the process for white potatoes alone and the same combinations of potatoes and lentils.
The study found that replacing half a serving of rice with lentils caused blood glucose to drop by up to 20 percent. Replacing potatoes with lentils led to a 35-per-cent drop.
"Pulses are extremely nutrient-dense food that has the potential to reduce chronic diseases associated with mismanaged glucose levels," said Duncan.
"We mixed the lentils in with the potatoes and rice because people don't typically eat pulses on their own, but rather consume them in combination with other starches as part of a larger meal, so we wanted the results to reflect that," she added.
Blood glucose fell by similar amounts when half of the starch was replaced with each of the three types of lentils.
"This slower absorption means you don't experience a spike in glucose. Having high levels over a period of time can lead to mismanagement of blood glucose, which is the hallmark of Type 2 diabetes. Essentially, eating lentils can lower that risk." said the author.
The study concluded that replacing half of the available carbohydrate from high glycemic index foods with lentils significantly lowers PBGR in healthy adults which can contribute to increased use of pulses in the diet to lower blood glucose level.
The article was published in the Journal of Nutrition.
For more reference log on to https://doi.org/10.1093/jn/nxy018
Source : With inputs from the Journal of Nutrition