Lenabasum is new treatment for diffuse cutaneous systemic sclerosis (dcSSc)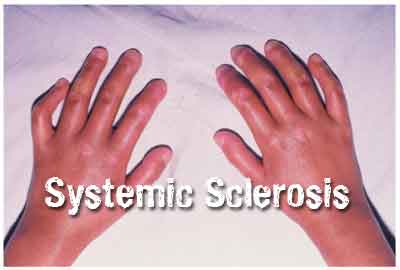 Lenabasum continues to be safe, tolerable and effective with no severe or serious adverse events (AE) in diffuse cutaneous systemic sclerosis (dcSSc), an autoimmune disease for which there are few treatment options, according to the results of an open-label extension of a phase II study presented at the Annual European Congress of Rheumatology (EULAR 2018).
The results of the initial phase II trial demonstrated that lenabasum had acceptable safety and tolerability in dcSSc and demonstrated consistent evidence of clinical benefit. In addition, changes in gene expression were shown to be consistent with biologic effects of labarum on pathways relevant to SSc
Lenabasum (JBT-101) is a selective cannabinoid receptor type 2 agonist that activates resolution of innate immune response in humans and reduces inflammation and fibrosis in animal models of SSc. It is a synthetic, oral, non-immunosuppressive small molecule.
"There is a critical unmet need for safe and effective therapeutics for patients with dcSSc," said Professor Thomas Dorner, Chairperson of the Abstract Selection Committee, EULAR. "These results demonstrate a significant step forward in the clinical development of a potentially impactful treatment for people suffering from this devastating disease."
R. Spiera and his associates conducted a study to provide long-term open-label safety and efficacy data in dcSSc subjects who received lenabasum in that trial.
The trial included 36 patients, who completed the phase II trial, into the one-year open-label extension (OLE). The participants received lenabasum 20mg twice a day. The mean duration of treatment in the OLE was 45 weeks with 19 patients completing 60 weeks of treatment.
The results showed improvement in multiple efficacy outcomes measured both from the start of the original study and the OLE. In the 25 subjects who completed a year in the OLE, the mean improvements from the study start included an improvement in ACR CRISS score* by 56%. There was also a reduction in modified Rodnan Skin Score, HAQ-DI†, Physician Global Assessment, and 5-D Itch Questionnaire by 8.6, 0.14, 0.9, and 2.3 respectively. Forced vital capacity percentage predicted was stable from study start with the mean change of 0.4%.1
Adverse events noted were the renal crisis, upper respiratory tract infection, urinary tract infection, diarrhea, skin ulcers and mild intermediate dizziness.
"Our results are very encouraging and reinforce the positive findings from the double-blinded placebo-controlled part of the study with regard to safety and tolerability," said Robert Spiera, M.D., Director of the Scleroderma and Vasculitis Program at Hospital for Special Surgery, Weill Cornell Medical College in New York City and principal investigator. "We look forward to continuing our investigations to assess the role of lenabasum as a new treatment option for patients with diffuse cutaneous systemic sclerosis ."
The study concluded that lenabasum continues to have acceptable safety and tolerability in dcSSc with no severe or serious AEs with improved multiple efficacy outcomes.
Systemic sclerosis is a rare autoimmune disease which causes hardening and swelling of the skin and joint pain, digestive problems, lung disease, and sometimes problems with the heart and kidneys. The diffuse cutaneous subtype (dcSSc) is even rarer and is linked with early damage to internal organs, as well as painful skin thickening that quickly gets worse.
The study was published in the journal The Annals of the Rheumatic Diseases.
For more information log on to
http://ard.bmj.com/content/77/Suppl_2/52.1