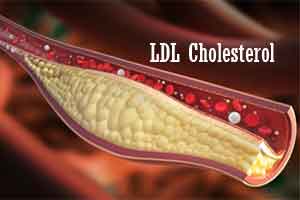 LDL particles cause atherosclerotic cardiovascular disease (ASCVD) through their retention, modification, and accumulation within the arterial intima. High plasma concentrations of  low-density lipoprotein drive this disease, but LDL quality may also contribute.
The low-density lipoprotein aggregates have a tendency to accumulate in the arterial wall, where they induce the formation of cholesterol-rich plaques. Low-density lipoprotein aggregates can also induce local inflammation in the plaques. An inflamed plaque can then rupture and cause myocardial infarction.
For the study, the researchers developed a novel, reproducible method to assess the susceptibility of low-density lipoprotein particles to aggregate during lipolysis induced ex vivo by human recombinant secretory sphingomyelinase.
The scientists found that low-density lipoprotein isolated from patients with the known cardiovascular disease was more aggregation-prone than low-density lipoprotein isolated from healthy individuals. The most aggregation-prone LDL was found in those patients who later died from cardiovascular disease.
"This is the first study to show that there are measurable inter-individual differences in the aggregation susceptibility of LDL particles, and that aggregation-prone low-density lipoprotein is predictive of cardiovascular death", summarizes Dr. Öörni.
There is also good news: the study showed that the quality of low-density lipoprotein particles can be improved by cholesterol-lowering medication or by a healthy diet. "Increase in consumption of vegetable oils and a decrease in consumption of sugar decreased LDL aggregation", describes Maija Ruuth, the first author of the research article.
In the future, the new measurement of low-density lipoprotein aggregation may help to improve cardiovascular risk. "This new biomarker may also facilitate identification of patients with currently unrecognized risk for cardiovascular events", suggests Professor Petri Kovanen, a member of the research team.
"Our results identify the susceptibility of low-density lipoprotein to aggregate as a novel measurable and modifiable factor in the progression of human ASCVD," concluded the authors.
For further information follow the link: https://doi.org/10.1093/eurheartj/ehy319